Thursday, December 15, 2016 | 6:30 PM EST - 6:30 PM EST
Cipriani Wall Street |, New York, NY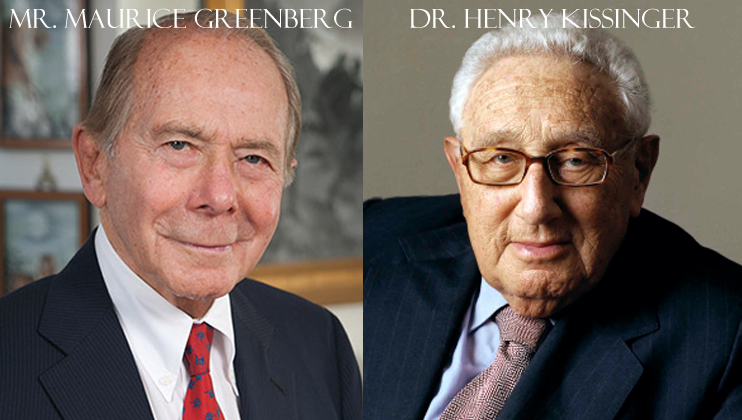 On December 15, 2016, the National Committee on U.S.-China Relations celebrated its 50th Anniversary at a grand black-tie Gala Dinner at the Cipriani Wall Street ballroom in New York. The event was designed to honor those whose extraordinary decades-long commitment has ensured our success, as well as to present our vision for our future work.
On the occasion of its 50th Anniversary, the National Committee presented special Lifetime Achievement Awards to two remarkable individuals with whom we have worked closely for nearly five decades. Henry A. Kissinger and Maurice R. Greenberg have served as vice chairmen of our board, advised both U.S. and Chinese leaders, and done a great service to the world through helping to build constructive Sino-American relations.
Two corporations were honored for their contributions to positive bilateral relations: United Airlines, with CEO Oscar Munoz accepting, and Boeing Commercial Airplanes, with Vice Chairman Ray Conner of The Boeing Company accepting.
In the 30 years since United Airlines first began service to China, the airline has grown to operate more non-stop flights to more cities there than any other U.S. carrier, with a total of 100 weekly flights to six Chinese destinations. Now in its 90th year, United has always been the National Committee's preferred airline, providing the citizens of our two countries opportunities to experience the other.
Boeing, this year celebrating its centennial, has long-standing relationships with Chinese airlines, the Chinese aviation industry, the Civil Aviation Administration of China, and the Chinese government. In 1972, the historic visit by President Richard Nixon to China led to the introduction of Boeing aircraft there and over 40 years of serving in the development of China's air transport system.
The Gala provides a significant source of support for the National Committee, a non-partisan organization that seeks to promote better understanding between China and the United States by creating opportunities for informed discussions regarding issues of vital importance. This year, more than 600 people, including business leaders, public officials and senior Chinese diplomats, gathered to honor Dr. Kissinger, Mr. Greenberg, Boeing Commercial Airplanes and United Airlines and look back on the year's significant milestones in Sino-American relations.
_________________________________
2016 GALA SPONSORS
_________________________________
Anniversary ($100K and above)
Click icon to connect
_________________________________
Chairman ($75K and above)
Click icon to connect
_________________________________
Leadership ($50K and above)
                 
                          
_________________________________
Benefactor ($25K and above)
AIG
American Express
Arconic
Bloomberg
China Construction America
CP Global Capital, LLC
Edelman
Harmonia Holdings, Ltd.
Héroux Devtek Inc.
JP Morgan Chase & Co.
Ken Miller & Lybess Sweezy
KPMG LLP
Marsh & McLennan Companies
Pfizer Inc
Sidley Austin LLP
The Dow Chemical Company
The Hershey Company
The Walt Disney Company
Van Eck Associates Corporation
Wall Street Investment Group, Inc.
Xiamen Airlines 
_________________________________
Patron ($15K and above)
American Express Global Business Travel
Amgen, Inc.
BlackBerry
China Eastern Airlines
Dorsey & Whitney LLP
Hainan Airlines
Hills & Company International Consultants
Hong Kong Economic and Trade Office
Huang Weili
IMAX Corporation
L Catterton
MCM International Holdings
NextWave Investment Strategies
Panasonic Avionics
PepsiCo Foundation
_________________________________
Supporters ($5K and above)
Humberto P. Alfonso
Amy Celico
Anla Cheng
Cigna
Thomas H. Kean
Levcor International, Inc.
Ken Lieberthal
The Coca-Cola Company
Wunderman