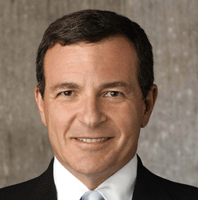 The National Committee on U.S.-China Relations celebrated its
45th Anniversary
with a black-tie Gala Dinner on
Monday, October 17th
at 6:30pm at the Plaza Hotel in New York City. That evening the National Committee recognized
John S. Watson, Chairman and CEO of Chevron
, and
Robert A. Iger, President and CEO of The Walt Disney Company
. Both companies are dedicated supporters of the National Committee and constructive U.S.-China relations. Their long-term investments and philanthropy in China have helped strengthen bilateral relations. Since 1904, when
Chevron
first entered China selling kerosene for lamps and home heating, the company has expanded operations in the country with a wide range of businesses, from exploration and production to the marketing of fuels and lubricants. Chevron is being honored for contributing to the development of people and technology and supporting social and educational programs in the communities in China where it works. For over 70 years,
The Walt Disney Company
has entertained Chinese audiences with world-class creative content across a wide array of businesses. Through projects like the Shanghai Disney Resort, one of the largest foreign investments in Disney history, the Company remains deeply committed to both long-term growth in China and the development of positive relations between China and the United States. The Gala provides a significant source of support for the National Committee, a non-partisan organization that seeks to promote better understanding between China and the United States by creating opportunities for informed discussions regarding issues of vital importance. This year, more than 450 people, including business leaders, public officials and senior Chinese diplomats, gathered to celebrate the 45th Anniversary and took note of the year's significant milestones in Sino-American relations.
2011 GALA SPONSORS

Anniversary Chairs
Click icon to connect

---











Leaders
Click icon to connect

---
























Benefactors

---


Patrons

---

Alcoa, Inc.
American Express Company
Anonymous
China Center
Clifford Chance
Comcast Corporation
Dorsey & Whitney LLP
Gerson Lerhman Group, Inc.
Global Strategic Associates LLC
Hearst Corporation
Hills & Company
Hong Kong Economic & Trade Office
IMAX Corporation
Johnson & Johnson
Jones Day
KKR
Lenovo
Levcor International
Mattel, Inc.
McLarty Associates
National Association of Broadcasters
NYSE Euronext, Inc.
PepsiCo
Pfizer, Inc.
Sungate Properties, LLC
The Coca-Cola Company
Time Warner Inc.
U.S. Chamber of Commerce


2011 GALA DINNER COMMITTEE
Honorary Co-Chairs

---

The Honorable George H.W. Bush
The Honorable James Earl Carter, Jr.


Honorary Vice-Chairs

---


The Honorable Madeleine K. Albright
The Honorable Michael H. Armacost
The Honorable Jeffrey A. Bader
The Honorable James A. Baker
The Honorable David L. Boren
The Honorable W. Michael Blumenthal
The Honorable Zbigniew Brzezinski
Mrs. Barbara Bush
The Honorable Elaine L. Chao
The Honorable Dianne Feinstein
The Honorable Barbara Franklin
The Honorable Lee H. Hamilton
The Honorable Thomas H. Kean
The Honorable John F. Kerry
The Honorable Henry A. Kissinger
The Honorable Winston Lord
The Honorable Richard G. Lugar
The Honorable John D. Negroponte
Mr. I. M. Pei
The Honorable William J. Perry
General Colin L. Powell
The Honorable Joseph W. Prueher
The Honorable Clark T. Randt, Jr.
The Honorable J. Stapleton Roy
The Honorable Robert E. Rubin
The Honorable James R. Sasser
Professor Robert Scalapino
The Honorable Brent Scowcroft
The Honorable George P. Shultz
The Honorable Richard H. Solomon
Professor Stephen Cecil Thomas
Professor Ezra F. Vogel
The Honorable Paul A. Volcker
The Honorable John M. Walker Jr.
The Honorable John C. Whitehead