Friday, October 9, 2020 | 9:30 AM EDT - 10:45 AM EDT
Zoom Webinar | Nirupana Rao, Arunabh Ghosh, Shen Dingli
Recent border disputes between China and India began in April, escalating to a deadly clash on June 15. Indian authorities reported that 20 troops died in the hand-to-hand combat using clubs and rocks; the Chinese side has not released casualty information. In August, India accused China of provoking military tensions; China claimed that the stand-off was entirely India's fault. The following month, China accused India of firing shots at its troops; India in turn accused China of firing shots in the air. If the allegations are true, it would be the first time that shots had been fired in 45 years.
There have been 17 rounds of talks since June, including a meeting of the two countries' defense and foreign ministers on the sidelines of the Shanghai Cooperation Organization summit in Moscow in September. What is behind the tensions along the 2,100-mile border some 21,000 feet above sea level in the rugged Himalayas? How likely is a resolution before the harsh winter arrives in a few weeks? What are the implications for China, India, and the United States?
On October 9, 2020, the National Committee held a virtual program with Ambassador Nirupana Rao, Dr. Arunabh Ghosh, and Dr. Shen Dingli.
Below are the five key takeaways from the presentation.​
Ambassador Rao: In the last four and a half decades, we had not seen a single incident of bloodshed along the frontier between India and China. This changed on June 15, 2020, when 20 Indian soldiers and their commanding officers lost their lives in the Galwan Valley amidst a confrontation with Chinese troops. The Chinese authorities have not issued casualty figures, but experts

believe

that some Chinese soldiers also perished.
Ambassador Rao: Since the incident at Galwan, there have been ongoing efforts to see if we can achieve some form of disengagement. It has happened to some extent in the Galwan Valley, but it is not happening in other areas along the India-China border where there is confrontation.
Dr. Ghosh: Something that complicates the border dispute is a mutual lack of awareness between China and Indi – across media, scholarship, and pop culture of both countries. This exacerbates the possibility of things escalating out of hand.
Dingli Shen: My proposed solution is to first define a reasonable area of dispute. Then turn the border area, defined by China and India's own ideal definitions of

the

Line of Actual Control (LAC), into a temporary area of peace. This could be a temporary fix, turning an area of dispute into an area of stability, disengagement, and demilitarization. This way, China and India can ultimately learn to respect each other, and find a more long-term solution.
Dr. Ghosh: Will this border dispute push India into a more formal arrangement with the United States? Even if it is not a formal alliance, we may see a greater integration of military maneuvering and sharing of logistical details. This will continue to be an important issue for India, as it brushes up against India's long-standing commitment to remain strategically autonomous.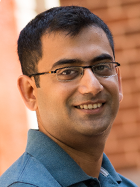 Arunabh Ghosh
Dr. Arunabh Ghosh is an historian of twentieth century China interested in social, economic, and environmental history, (transnational) histories of science and statecraft, and China-India history. He is an associate professor of history at Harvard University. Professor Ghosh's first book, Making it Count: Statistics and Statecraft in the early People's Republic of China, 1949-1959 (2020), offers perspectives on China's transition to socialism in 1949 by investigating an elemental but hardly elementary question: how did the state build capacity to know the nation through numbers? He is currently working on two new projects: a history of small-scale dam-building in twentieth century China and a history of China-India scientific connections from the 1920s to the 1980s. Dr. Ghosh's work has appeared in the Journal of Asian Studies, Osiris, BJHS Themes, EASTS, PRC History Review, and other journals.
Dr. Ghosh received his bachelor's degree from Haverford College and his doctorate from Columbia University. He is a member of the NCUSCR Public Intellectuals Program.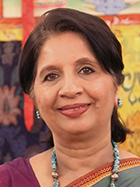 Nirupama Rao
Ambassador Nirupama Rao is a former foreign secretary of India (2009-2011) who earlier served as the first female spokesperson of the Ministry of External Affairs, High Commissioner of India in Sri Lanka and ambassador to the People's Republic of China and to the United States (2011 to 2013).
Since her retirement, Ambassador Rao has been a fellow at Brown University and also taught there (2015-16). She was George Ball Adjunct Professor at Columbia University in fall 2018; the following year she was a Pacific Leadership Fellow at the University of California, San Diego. She is a global fellow of The Woodrow Wilson Center, councillor of the World Refugee Council, a member of the boards of governors of the India Institute of Management, Bangalore, and the Indian Council for Research on International Economic Relations, New Delhi.
Ambassador Rao is the founder trustee of The South Asian Symphony Foundation and established the South Asian Symphony Orchestra. Her first commercial album, entitled "Peace is My Dream," was released in December 2017 by the Universal Music Group (India) label. She is also a published poet; her book of poems, Rain Rising, was published in 2004.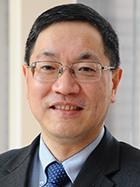 Shen Dingli
Dr. Shen Dingli is a professor and former executive dean at Fudan University's Institute of International Studies, and former director of Fudan's Center for American Studies. He is also an honorary visiting professor at Washington University in St. Louis. His research and publications cover China-U.S. security relations, regional security and international strategy, arms control and nonproliferation, and foreign and defense policy of China and the United States, among other topics. He is vice president of the Chinese Association of South Asian Studies and the Shanghai Association of American Studies.
Dr. Shen received his Ph.D. in physics from Fudan in 1989 and held a post-doc in arms control at Princeton University from 1989 to 1991. He was an Eisenhower fellow in 1996, and in 2002 advised the UN Secretary General Kofi Annan on strategic planning. He is a member of the global council of the Asia Society. He has co-edited 17 books and published over 2,500 papers and articles worldwide.