Tuesday, February 9, 2010 | 1:00 PM EST - 2:30 PM EST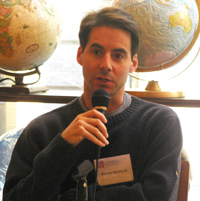 Peter Hessler, described by the Wall Street Journal as "one of the Western world's most thoughtful writers on modern China," discussed his new book, Country Driving: A Journey Through China From Farm to Factory, on the morning of its hardcover release on February 9th, 2010. Interviewed by National Committee President Steve Orlins, Mr. Hessler brought much of the enthusiasm that pervades his writing to the discussion, jumping into intriguing, amusing, and sometimes terrifying stories of driving on the newly constructed roads in China. He began with a discussion of his road trips along the Great Wall, describing how car culture has changed the ways of rural people, who now interact more closely and frequently with their city counterparts. From laughing with fellow motorists, to chatting with young migrants hitching rides home, to camping along the Great Wall night after night, Mr. Hessler portrays a China that is excited to live in an era of continuous change.
Mr. Hessler then took his story to Sancha, a small village north of Beijing. The auto boom in the capital began bringing weekend tourists to Sancha, changing the village and its residents. Responding to questions posed by Mr. Orlins, Mr. Hessler described the complexities of Chinese legal and commercial cultures, with anecdotes on why some laws are strictly adhered to while others are not enforced.
The third part of the talk took the audience to a new factory town that sprung up off a highway in Zhejiang. Once again, Mr. Hessler breathed life into the breakneck pace of China's ever-changing development, this time in an urban setting. By spending considerable amounts of time with a variety of individuals, he gained their trust learning about their lives, their hopes, and their dreams.
Peter Hessler is a staff writer at The New Yorker, where he served as Beijing correspondent from 2000-2007, and is also a contributing writer for National Geographic. He is the author of New York Times best-selling River Town and Oracle Bones, which was a finalist for the National Book Award. He won the 2008 National Magazine Award for excellence in reporting.