Thursday, October 22, 2020 | 4:00 PM EDT - 5:15 PM EDT
Zoom Webinar | Donald Emmerson, Ann Murphy
At a meeting of the ASEAN Regional Forum in 2010, the Chinese foreign minister, angered by a question about the South China Sea dispute, declared: "China is a big country and other countries are small countries, and that is just a fact." The authors whose essays are collected in The Deer and the Dragon examine the nature, dynamics, and implications of that fact – and the inequality that has resulted between China and the countries of Southeast Asia.
What does the history of Sino-Southeast Asian relations tell us about future possibilities? Do economic relations already suggest dependence? How do the countries of Southeast Asia view China and its intentions, and how does China see the region? What is the role of ASEAN? How does U.S. policy affect the relative influence of China and the United States in Southeast Asia?
The National Committee held a virtual program with Dr. Donald Emmerson featuring commentary from Dr. Ann Marie Murphy on October 22, 2020. Stanford University's Shorenstein Asia-Pacific Research Center and the New York Southeast Asia Network co-sponsored the event.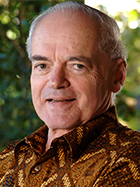 Donald K. Emmerson
Donald K. Emmerson heads the Southeast Asia Program at Stanford University where he is also a faculty affiliate of the Center on Democracy, Development, and the Rule of Law and the Abbasi Program in Islamic Studies. His latest book is The Deer and the Dragon: Southeast Asia and China in the 21st Century (August 2020). Other recent remarks and publications include "Donald Emmerson on Southeast Asia's Approach to China" (interview, The Diplomat, August 2020); "'No Sole Control' in the South China Sea," Asia Policy (2019); ASEAN @ 50, Southeast Asia @ Risk: What Should Be Done? (edited, 2018); and "ASEAN Between China and America: Is It Time to Try Horsing the Cow?," Trans-Regional and National Studies of Southeast Asia (2017). He has traveled and lectured widely in Southeast Asia, most recently in Singapore, Thailand, and Vietnam in December 2019. Indonesia figured prominently in earlier fieldwork and writing. Before moving to Stanford in 1999, Dr. Emmerson taught political science at the University of Wisconsin-Madison. He has held visiting positions at the Institute for Advanced Studies and the Australian National University, among other institutions. His doctorate in political science is from Yale, and his bachelor's degree in international affairs is from Princeton.
Ann Marie Murphy
Ann Marie Murphy is a professor of political science at the School of Diplomacy and International Relations, Seton Hall University; senior research scholar at the Weatherhead East Asian Institute, Columbia University; and 2019-2020 ASEAN Research Program Fulbright Scholar. She is a founding partner of the New York Southeast Asia Network. Dr. Murphy's research interests include international relations and comparative politics in Southeast Asia, U.S. foreign policy toward Asia, and governance of non-traditional security issues. She is co-author (with Amy Freedman) of Non-Traditional Security Issues in Southeast Asia: The Transnational Dimension (2018), and co-editor (with Bridget Welsh) of Legacies of Engagement in Southeast Asia (2008). Dr. Murphy's articles have appeared in journals including Asian Security, Contemporary Southeast Asia, Orbis, Asia Policy, World Politics Review and PS: Political Science & Politics. She is completing a book on the impact of democracy on Indonesian foreign policy with the generous support of the Smith Richardson Foundation. Dr. Murphy received her bachelor's degree from Lehigh University and her master's and doctoral degrees from Columbia University.