Wednesday, November 13, 2013 | 10:30 PM EST - 10:30 PM EST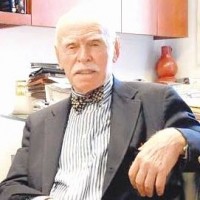 The new book,
Challenge to China,
by Jerome A. Cohen and Margaret K Lewis, draws attention to an underappreciated aspect of legal reforms in Taiwan and asks how Taiwan's experience might be relevant to its neighbor across the Taiwan Strait. The Mainland leadership has for years claimed that it would soon abolish labor camps for its police-dominated system of "re-education through labor," but until recently has not taken steps to do so. Authors Jerome A. Cohen, a professor at NYU School of Law since 1990, and Margaret K. Lewis, an associate professor at Seton Hall Law School, discussed how their research on Taiwan's experience provides fresh ideas for the Mainland's future reform path at a
National Committee program on Wednesday, November 13.
Bios:
Professor Jerome A. Cohen
, a professor at NYU School of Law since 1990 and co-director of its U.S.-Asia Law Institute, is a leading American expert on Chinese law and government. A pioneer in the field, Prof. Cohen began studying China's legal system in the early 1960s and from 1964 to 1979 introduced the teaching of Asian law into the curriculum of Harvard Law School, where he served as Jeremiah Smith Professor, Associate Dean and Director of East Asian Legal Studies. In addition to his responsibilities at NYU, Prof. Cohen served for several years as C.V. Starr Senior Fellow and Director of Asia Studies at the Council on Foreign Relations, where he currently is an Adjunct Senior Fellow. He retired from the partnership of Paul, Weiss, Rifkind, Wharton & Garrison LLP at the end of 2000 after twenty years of law practice focused on China. In his law practice, Prof. Cohen represented many companies and individuals in contract negotiations as well as in dispute resolution in China. He continues to serve as an arbitrator and expert witness in disputes relating to China and to Chinese in the United States. Prof. Cohen has published several books on Chinese law, including
The Criminal Process in the People's Republic of China, 1949-63
(Harvard University Press. 1968),
People's China and International Law
(Princeton University Press. 1974) and
Contract Laws of the People's Republic of China
. In addition, he has published hundreds of scholarly articles on various topics as well as a book,
China Today
, co-authored with his wife, Joan Lebold Cohen, and a regular series of journalistic opinion pieces for various newspapers. In 1990, he published
Investment Law and Practice in Vietnam
. Today, Prof. Cohen continues his research and writing on Asian law, specifically focusing on legal institutions, criminal justice reform, dispute resolution, human rights and the role of international law. Before becoming a professor, Mr. Cohen served in government, first as an Assistant U.S. Attorney in Washington, D.C. from 1958 to 1959 and then as a fulltime consultant to the U.S. Senate Committee on Foreign Relations in 1959. He has also testified at many Congressional hearings on China. Prof. Cohen is a Phi Beta Kappa graduate of Yale College (B.A. 1951). He spent the 1951-1952 academic year as a Fulbright Scholar in France and graduated, in 1955, from Yale Law School, where he was Editor-in-Chief of the
Yale Law Journal
. He was Law Secretary to Chief Justice Earl Warren of the United States Supreme Court in the 1955 Term and Law Secretary to Justice Felix Frankfurter of the Supreme Court in the 1956 Term.
Margaret K. Lewis
joined Seton Hall Law School as an associate professor in 2009. She is a term member of the Council on Foreign Relations, a Public Intellectuals Program fellow with the National Committee on U.S.-China Relations, and an affiliated scholar of NYU School of Law's U.S.-Asia Law Institute. Her recent publications have appeared in the
Columbia Journal of Transnational Law
,
NYU Journal of International Law and Politics
,
Columbia Journal of Asian Law
, and
Virginia Journal of International Law
. Prior to joining the Seton Hall faculty, Professor Lewis served as a senior research fellow at NYU School of Law's U.S.-Asia Law Institute where she worked on criminal justice reform in China. Following graduation from law school, she was an associate at the law firm of Cleary, Gottlieb, Steen & Hamilton in New York City. She then served as a law clerk for the Honorable M. Margaret McKeown of the U.S. Court of Appeals for the Ninth Circuit in San Diego. After clerking, she returned to NYU School of Law and was awarded a Furman Fellowship. Professor Lewis received her J.D.,
magna cum laude
, from NYU School of Law, where she was inducted into the Order of the Coif and was a member of Law Review. She received her B.A.,
summa cum laude
, from Columbia University. In addition, she has studied at the Hopkins-Nanjing Center for Chinese and American Studies in Nanjing, China, and Bucerius Law School in Hamburg, Germany.
Politics & Foreign Relations
Recorded 11/13/2013