Thursday, April 29, 2010 | 9:30 PM EDT - 11:00 PM EDT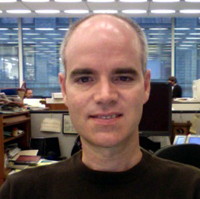 Jeffrey Wasserstrom and Joseph Kahn discussed the challenges of writing about China from the perspectives of an academic and a journalist at Jones Day in New York. Dr. Wasserstrom is a professor of history at the University of California, Irvine, and Mr. Kahn is deputy foreign editor of
The New York Times
. Dr. Wasserstrom has written four books on China, including the just published
China in the 21st Century: What Everyone Needs to Know
(Oxford, 2010), and has edited or co-edited five other books. His essays have appeared in many academic journals, as well as in newspapers, including the
International Herald Tribune
and the
Los Angeles Times
, and magazines such as
Foreign Policy
,
The Nation
,
Outlook India
, and
Time
and
Newsweek
. He blogs regularly for the
Huffington Post
, is a co-founder of the "China Beat" blog/electronic magazine, and has been a guest on NPR's "Morning Edition" and "All Things Considered." He received his bachelor's degree from the University of California, Santa Cruz; his master's degree from Harvard; and his doctorate from Berkeley. Mr. Kahn has worked for
The New York Times
since January, 1998, reporting on international economic issues from the
Times
' Washington Bureau, covering Wall Street based in New York, and serving as the
Times
' Beijing Bureau chief before being named deputy foreign editor in early 2008. Prior to joining the
Times
he spent four years as a China correspondent for the
Wall Street Journal
. He also worked for the
Dallas Morning News
as a city desk reporter and foreign correspondent. Mr. Kahn received his B.A. in American history and M.A. in East Asian Studies from Harvard.