Tuesday, October 19, 2021 | 7:00 PM EDT - 8:00 PM EDT
Livestream | Fareed Zakaria
CNN host and best-selling author Fareed Zakaria was the featured speaker for CHINA Town Hall 2021, a national conversation on how the U.S.-China relationship affects our cities, towns, and communities. From supply chains to national security, new technologies to climate change, the future of both countries will be determined by their relations with one another and the global community.
On October 19, 2021, the National Committee held a nationwide virtual event, including Q&A with one of America's leading foreign policy commentators. He examined the challenges and opportunities for both countries as they confront the most critical issues of the 21st century.
The National Committee was proud to partner with a wide range of institutions and community groups, including colleges and universities, world affairs councils, and trade and business associations to bring this important national conversation to local communities around America for the 15th consecutive year.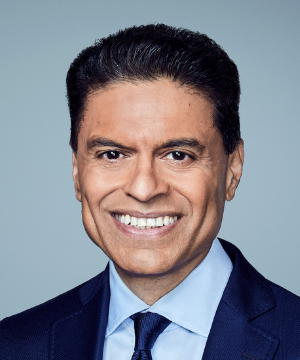 Fareed Zakaria
Fareed Zakaria hosts Fareed Zakaria GPS for CNN Worldwide and is a columnist for The Washington Post, a contributing editor for The Atlantic, and a best-selling author. Fareed Zakaria GPS is a weekly international and domestic affairs program that airs on CNN/U.S. and around the world on CNN International. Since its debut in 2008, it has become a prominent television forum for global newsmakers and thought leaders.
Zakaria is the author of three highly-regarded and New York Times best-selling books: In Defense of a Liberal Education (2015), a commentary on the importance of a well-rounded education; the international best-selling The Post-American World (1st ed. 2008, 2nd ed. 2011), a discussion of the rise of non-Western powers; and The Future of Freedom (2003), a study of "illiberal democracy" in various countries, also an international bestseller. His latest book is Ten Lessons for a Post-Pandemic World.
Prior to his tenure at CNN Worldwide, Zakaria was editor of Newsweek International, managing editor of Foreign Affairs, a columnist for Time, an analyst for ABC News, and the host of Foreign Exchange with Fareed Zakaria on PBS. In 2017, Zakaria was awarded the Arthur Ross Media Award by the American Academy of Diplomacy, and in 2010, the Government of India awarded him the Padma Bhushan, one of its highest civilian honors. He was named a "Top 10 Global Thinker of the Last 10 Years" by Foreign Policy magazine in 2019, and Esquire once called him "the most influential foreign policy adviser of his generation."
Zakaria serves on the boards of the Council of Foreign Relations and New America. He earned a bachelor's degree from Yale University, a doctorate in political science from Harvard University, and has received numerous honorary degrees.