Wednesday, October 11, 2023 | 7:00 PM EDT - 8:00 PM EDT
National Webcast | Nicholas Burns
Current U.S. Ambassador to China Nicholas Burns will be the featured speaker for CHINA Town Hall 2023, a national conversation on how the U.S.-China relationship affects our communities. From trade, tech competition, and fentanyl to climate cooperation, national security, and anti-Asian racism, the future of both countries will be determined by their relations with one another and the global community.

The nationwide virtual conversation, including live Q&A, will take place on Wednesday, October 11, at 7:00 p.m. ET. As America's top diplomat in China and one of the U.S.' most articulate foreign policy experts, Ambassador Burns is uniquely suited to unpack the challenges and opportunities for both countries as they confront the most critical issues of the 21st century.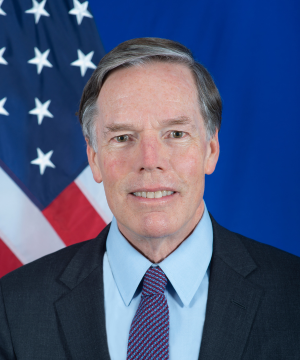 Nicholas Burns
Nicholas Burns is U.S. Ambassador to China. Nominated by President Biden and confirmed by the Senate, he was sworn into office on December 22, 2023.
As Ambassador, he leads a team of experienced, dedicated, and diverse public servants from 47 U.S. government agencies and sub-agencies at the U.S. Mission in China, including at the Embassy in Beijing and at the American Consulates in Shanghai, Guangzhou, Wuhan, and Shenyang. He oversees the Mission's interaction with the PRC on the full range of political, security, economic, commercial, consular, and many other issues that shape this critical relationship.
Ambassador Burns has had a distinguished career in American diplomacy, serving six U.S. Presidents and nine Secretaries of State over 27 years. His State Department roles have included Under Secretary of State for Political Affairs, the State Department's third-ranking official and most senior career diplomat (2005-2008); U.S. Ambassador to NATO (2001-2005); U.S. Ambassador to Greece (1997-2001); and State Department spokesman (1995-1997). Before that, he worked at the National Security Council at the White House (1990-1995) where he served as Special Assistant to President Clinton and Senior Director for Russia, Ukraine and Eurasia Affairs and as Director for Soviet Affairs for President George H.W. Bush during the collapse of the USSR.
Ambassador Burns' engagement with China also spans decades. He first visited the PRC in 1988, accompanying Secretary of State George Shultz, and then again in 1989 with President George H.W. Bush. He made subsequent visits with Secretaries Warren Christopher and Madeleine Albright, including during the handover of Hong Kong from the United Kingdom to the PRC in 1997. As Under Secretary of State, he worked with the PRC government on a diverse range of issues, including Afghanistan, North Korea, United Nations sanctions against Iran and U.S. policy in the Indo-Pacific. As a private citizen, he also created and managed an Aspen Strategy Group policy dialogue with the PRC government's Central Party School.
Ambassador Burns has served on the boards of numerous nonprofit organizations, and has received fifteen honorary degrees, the Presidential Distinguished Service Award, and the Secretary of State's Distinguished Service Award.
A graduate of Boston College and the Johns Hopkins School of Advanced International Studies, Ambassador Burns is currently on a public service leave from Harvard University's John F. Kennedy School of Government where he was the Goodman Professor of the Practice of Diplomacy and International Relations and founded the school's Future of Diplomacy Project.