Thursday, February 21, 2013 | 10:30 PM EST - 10:30 PM EST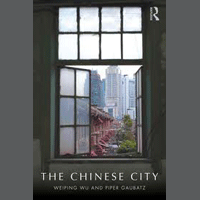 Over the past decades China has experienced massive urbanization: its cities are now home to 10% of the world's population and over 50% of the Chinese population. In
The Chinese City
, Weiping Wu and Piper Gaubatz explore how Chinese cities display unprecedented dynamism under the country's growing economic power, challenging conventional urban theories and experiences of cities elsewhere. Dr. Wu discussed her new book at a National Committee program on
Thursday, February 21
at the Henry Luce Foundation.
BIO
Weiping Wu is a professor of urban and environmental policy and planning at Tufts University and senior fellow at the Center for Emerging Market Enterprises at the Fletcher School. A respected urban specialist and China scholar, she has served as a consultant to the World Bank, and a research fellow at the Brookings Institution. She is also a fellow in the National Committee's Public Intellectuals Program. Dr. Wu is an editor of the Journal of Planning Education and Research and a visiting Zijiang Chair Professor at East China Normal University in Shanghai.
Professor Wu conducts research on migration and urbanization, local innovation policy, and China's urban development. In addition to her new book, she has written or co-written several other volumes including The Dynamics of Urban Growth in Three Chinese Cities (1997) and Pioneering Economic Reform in China's Special Economic Zones (1999). The National Science Foundation, U.S. Department of Education, U.S. Department of Housing and Urban Development, Lincoln Institute of Land Policy, and World Bank have provided funding to support for her research.
Dr. Wu received her doctorate in urban planning and policy development from Rutgers University and her master's in urban planning and bachelor's in architecture from Tsinghua University.
Politics & Foreign Relations
Politics & Foreign Relations
Recorded 2/21/2013