Monday, October 5, 2020 | 8:00 PM EDT - 9:00 PM EDT
Zoom Webinar | Kishore Mahbubani
China and the United States are the world powers of the 21st century. With many differences in political philosophy and diplomatic methods, they approach each other warily and communicate poorly. In Has China Won?: The Chinese Challenge to American Primacy, Ambassador Kishore Mahbubani, a former Singaporean diplomat and prolific scholar with access to policymakers in Beijing and Washington, has written a guide to the deep fault lines in the relationship, an assessment of the risks of confrontation, and an appraisal of the strengths and weaknesses, and superpower eccentricities, of the United States and China.
The National Committee held a virtual program on October 5, 2020 with Professor Kishore Mahbubani.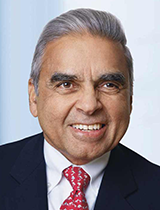 Kishore Mahbubani
A veteran diplomat, student of philosophy, and author of eight books, Kishore Mahbubani is currently a distinguished fellow at the Asia Research Institute, National University of Singapore. He was selected as one of Foreign Policy's Top Global Thinkers in 2010 and 2011. In 2011, he was described as "the muse of the Asian century." He was selected by Prospect magazine as one of the top 50 world thinkers for 2014.
Ambassador Mahbubani served in the Singapore Foreign Service for 33 years (1971 to 2004), with postings in Cambodia, Malaysia, Washington, D.C., and New York, where he served twice as Singapore's ambassador to the United Nations and as president of the UN Security Council in January 2001 and May 2002. He was permanent secretary at the Foreign Ministry from 1993 to 1998.
For his excellence as a diplomat, he was conferred the Public Administration Medal (Gold) by the Singapore government in 1998. In 2004, Professor Mahbubani became the founding dean of the Lee Kuan Yew School of Public Policy, National University of Singapore, holding the position until 2017; he was also a professor in the practice of public policy from 2006 to 2019. In April 2019, he was elected to the American Academy of Arts and Sciences as an honorary international member. He is also a member of the World Economic Forum 2020 Global Future Council on China.
Professor Mahbubani graduated with a first class honours degree in philosophy from the University of Singapore in 1971. He received a master's degree in philosophy and an honorary doctorate from Dalhousie University (Halifax, Canada). He spent a year as a fellow at the Center for International Affairs at Harvard University from 1991 to 1992.
Professor Mahbubani is a prolific author, having published numerous articles and eight books: Can Asians Think?, Beyond The Age Of Innocence, The New Asian Hemisphere, The Great Convergence, Can Singapore Survive?, The ASEAN Miracle (co-authored with Jeffery Sng), and Has the West Lost It?. His latest book, Has China Won?, was released in March 2020.