Tuesday, August 11, 2020 | 4:00 PM EDT - 5:00 PM EDT
Zoom Webinar | Paul Pickowicz
Paul Pickowicz, long a professor of Chinese history at the University of California, San Diego, was among the first Americans to go to China after the People's Republic of China was established in 1949. He›› kept a detailed journal and took nearly a thousand photographs during his four-week stay, some of which are collected in A Sensational Encounter with High Socialist China, a recollection of the historic visit. Professor Pickowicz uses the five senses to draw the reader into his experiences.
The National Committee hosted a virtual program on August 11, 2020 with Dr. Paul Pickowicz to discuss his book and the very different China and era in U.S.-China relations that it portrays.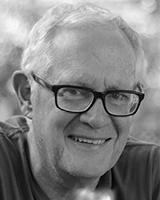 Paul G. Pickowicz
Paul G. Pickowicz is Distinguished Professor Emeritus of History and Chinese Studies at the University of California, San Diego, and inaugural holder of the UC San Diego Endowed Chair in Modern Chinese History. His books (authored, coauthored, and coedited) include Marxist Literary Thought in China (1981), Unofficial China (1989), Chinese Village, Socialist State (1992, winner of the Joseph R. Levenson Prize of the Association for Asian Studies), New Chinese Cinemas (1994), Popular China (2002), Revolution, Resistance, and Reform in Village China (2005), From Underground to Independent (2006), The Chinese Cultural Revolution as History (2006), Dilemmas of Victory (2007), China on the Margins (2010), Radicalism, Revolution, and Reform in Modern China (2011), China on Film (2012), Restless China (2013), Liangyou: Kaleidoscopic Modernity and the Shanghai Global Metropolis (2013), Filming the Everyday (2017), China Tripping (2019), and A Sensational Encounter with High Socialist China (2019).
Professor Pickowicz has won three distinguished teaching awards: the UC San Diego Alumni Association (1998), Chancellor's Associates (2009), and Academic Senate (2003). He has been invited to teach a course on the history of Chinese silent cinema at the University of Edinburgh, the University of Heidelberg, and Renmin University (Beijing). In 2012 he taught the same course in Chinese at East China Normal University (Shanghai). Dr. Pickowicz has held visiting appointments at the University of Oxford, National University of Singapore, University of Edinburgh, University of Heidelberg, East China Normal University, City University of Hong Kong, Ecole Normale Superieure (Lyon, France), the Hong Kong Institute of Education, and Tsinghua University. He is associate producer of the documentary films China in Revolution, 1911-1949 (1989) and The Mao Years, 1949-1976 (1994). Dr. Pickowicz was honored by the German government in 2016 when it presented him with a Humboldt Research Award for lifetime accomplishments in research and teaching.
Dr. Pickowicz received his bachelor's degree in history from Springfield College, a master's degree in history from Tufts University, and his doctorate from the University of Wisconsin, Madison.