Monday, June 27, 2016 | 5:30 PM EDT - 7:00 PM EDT
Omni Shoreham Hotel |, Washington, DC
Every morning, the national security advisor briefs the president of the United States on the world's most pressing security threats, from ISIS to the Zika virus. Our collective security is increasingly reliant upon cooperation between the United States and China, whether it is minimizing the risk of conflict in the South China Sea, dealing with North Korea's nuclear weapons program, or responding to climate change. We explored these issues and more in a program featuring former National Security Advisors, Richard V. Allen, Stephen J. Hadley, and Robert McFarlane, in conversation with National Committee President Stephen A. Orlins.
This program is part of a series of events celebrating the National Committee's 50th Anniversary. For more information about other 50th Anniversary programs, please click here.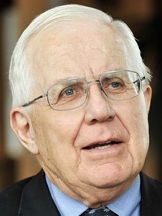 Richard V. Allen
Richard V. Allen served as National Security Advisor under President Ronald Reagan between 1981 and 1982. Before that, he was senior foreign policy advisor for Reagan's second presidential campaign and advisor for his 1976 presidential campaign. Prior to that, he served both as deputy assistant to President Richard Nixon and deputy director of the Council on International Economic Policy. In 1968, he served as chief coordinator of foreign policy activities for Nixon's presidential campaign, and was later appointed by Nixon as a principal of the National Security Council staff.
Mr. Allen is currently a senior fellow at the Hoover Institution on War, Revolution, and Peace at Stanford University and a member of the international advisory board of APCO Worldwide. He is a member of the Council on Foreign Relations and the advisory council of the Cyber and Homeland Security Institute, among others. Mr. Allen has served on the Defense Policy Board of the Department of Defense, the National Security Advisory Group of the Congress, and the advisory board of the Nixon Center. He was a founding member of the Center for Strategic and International Studies.
When he was senior counselor for foreign policy and national security of the Republican National Committee, Mr. Allen helped create the International Cooperation Fund and was vice chairman of the International Democratic Union. His career also includes such positions as distinguished fellow at the Heritage Foundation and founding chairman of its Asian studies center; founding member of the United States National Committee for Pacific Basin Economic Cooperation; member of the advisory council of the National Republican Institute for International Affairs; the board of governors of the Ronald Reagan Presidential Foundation; President George W. Bush's Task Force on U.S. Government International Broadcasting; the board of trustees of the International Crisis Group in Brussels; and the Congressional Policy Advisory Board.
Mr. Allen received both his bachelor's and master's degrees from the University of Notre Dame. He is married to the former Patricia A. Allen, and they have seven children and 22 grandchildren.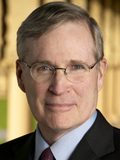 Stephen J. Hadley
Stephen J. Hadley served for four years as the assistant to the president for National Security Affairs (2005 to 2009). In that capacity he was the principal White House foreign policy advisor to then President George W. Bush, directed the National Security Council staff, and ran the interagency national security policy development and execution process. From 2001 to 2005, Mr. Hadley was the assistant to the president and deputy national security advisor, serving under then National Security Advisor Condoleezza Rice. In addition to covering the full range of national security issues, Mr. Hadley had special responsibilities in several areas including a U.S./Russia political dialogue, the Israeli disengagement from Gaza, and developing a strategic relationship with India.
He is currently a principal of RiceHadleyGates LLC, an international strategic consulting firm co-founded with former Secretary of State Condoleezza Rice, former Defense Secretary Robert Gates, and Anja Manuel. The firm assists senior executives of major corporations in overcoming the challenges to doing business successfully in major emerging markets like China, India, and Indonesia.
Mr. Hadley has experience in both government and the private sector. From 1974 to 1977, he was on the National Security Council staff under President Ford. From 1989 to 1993, he served as assistant secretary of defense for international security policy under then-Secretary of Defense Dick Cheney. From 1993 to 2001, he was both a partner at the law firm of Shea and Gardner (now part of Goodwin Proctor) and a principal at The Scowcroft Group. At Shea and Gardner, he represented corporate clients in transactional and international matters, including foreign investment in U.S. national security companies and the national security responsibilities of U.S. information technology companies. At Scowcroft, Mr. Hadley represented U.S. corporate clients investing and doing business overseas.
Mr. Hadley is currently board chairman of the United States Institute of Peace and a member of the State Department's foreign affairs policy board, among other corporate board and advisory positions.
He graduated magna cum laude and Phi Beta Kappa from Cornell University and received his J.D. from Yale Law School. From 1972 to 1975 he served as an officer in the U.S. Navy.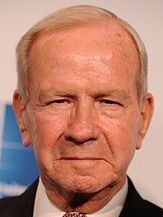 Robert McFarlane
Robert McFarlane served as national security advisor to President Ronald Reagan from 1983 to 1985. He has had a distinguished record of public service, including ten years in the White House and State Department serving variously as Counselor to the Secretary of State, the President's Special Representative in the Middle East, and Military Advisor to Henry Kissinger and Brent Scowcroft.
In the Reagan years, he was the architect of the comprehensive set of U.S. policies dealing with the Soviet Union in its waning days. In recent years Mr. McFarlane has focused on organizing investment into developing countries, nurturing reconciliation between rival Sunni and Shia sects in Iraq, coaching the tribal leaders of Darfur, and leading the United States Energy Security Council, a bipartisan panel comprised of former cabinet officers, senior retired military officers, and senior corporate executives devoted to forging a more coherent national energy policy. Alongside retired four-star military officers, he is currently focused on the prevention of a nuclear arms race in the Middle East.
He is a graduate of the U.S. Naval Academy and served for 20 years as a Marine officer. Among his many distinctions, he was selected as an Olmsted Scholar and a White House Fellow. Mr. McFarlane holds a Master's of Science from the Graduate Institute of International Studies in Geneva, Switzerland.