Tuesday, May 17, 2016 | 5:30 PM EDT - 7:00 PM EDT
Akin Gump Strauss Hauer & Feld LLP |, New York, NY
Within the past few decades, China has undergone a series of profound social changes stemming from globalization and its own domestic economic reforms and political development. Cultural attitudes deeply embedded in China for centuries have changed seemingly overnight with the expansion of the Chinese middle class.
Perhaps no city in China quite exemplifies this colossal transformation like Shanghai. Once a moderately sized port city, Shanghai has quickly become a sprawling global financial and cultural center rivaling New York and London. The economic promise of Shanghai has attracted millions of Chinese and foreigners alike seeking to partake in the seeming torrent of capital, ideas, and opportunity. One of these dreamers is Rob Schmitz, who traveled to Shanghai as a correspondent for Marketplace. While immersing himself in his neighborhood, Mr. Schmitz encountered a web of individuals whose life stories together portray the mosaic of contemporary China. In his book, Street of Eternal Happiness, Schmitz narrates the experiences of these everyday people, and the hardships many have endured in their struggle to adapt to an ever-changing China. As he became more involved in their lives, Schmitz made surprising discoveries that reveal a family's – and country's – dark past, and an abandoned neighborhood where fates have been violently altered by unchecked power and greed.
A tale of 21st century China, Street of Eternal Happiness profiles China's distinct generations through individuals whose lives illuminate an enlightening, humorous, and at times heartrending journey along the winding road to the Chinese Dream. Each story adds another layer of humanity and texture to modern China. The result is an intimate and surprising portrait that dispenses with the tired stereotypes of a country we think we know, presenting us instead with the vivid stories of the people who make up one of the world's most captivating cities. Rob Schmitz launched his book with the National Committee on May 17, 2016 in New York City.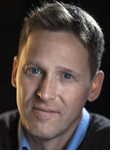 Rob Schmitz
Rob Schmitz is the China correspondent for American Public Media's Marketplace, the largest business news program in the U.S. with more than 12 million listeners a week. Mr. Schmitz has won several awards for his reporting on China, including two national Edward R. Murrow awards and an Education Writers Association award. His work was also a finalist for the 2012 Investigative Reporters and Editors Award. His reporting in Japan — from the hardest-hit areas near the failing Fukushima nuclear power plant following the 2011 earthquake and tsunami — was included in the publication "100 Great Stories," celebrating the centennial of Columbia University's Journalism School. In 2012, Rob exposed the fabrications in Mike Daisey's account of Apple's supply chain on This American Life. His report was featured in the show's "Retraction" episode, the most downloaded episode in the program's 16-year history.
Prior to joining Marketplace, Mr. Schmitz was the Los Angeles bureau chief for KQED's The California Report. He also worked as the Orange County reporter for KPCC, and as a reporter for MPR, covering rural Minnesota. Prior to his radio career, Rob Schmitz lived and worked in China, first as a teacher in the Peace Corps, then as a freelance print and video journalist. His television documentaries about China have appeared on The Learning Channel and the Canadian Broadcasting Corporation.
Mr. Schmitz has a master's degree from Columbia University's Graduate School of Journalism and a bachelor's degree in Spanish from the University of Minnesota-Duluth. He speaks Spanish and Mandarin. He has lived in Spain, Australia, and China. A native of Elk River, Minnesota, he currently lives in Shanghai.