Thursday, June 29, 2017 | 5:30 PM EDT - 7:00 PM EDT
National Committee on U.S.-China Relations |, New York, NY
Ping Pong Productions, founded by NCUSCR Public Intellectuals Program Fellow Alison M. Friedman, arranged for Ayad Akhtar's Pulitzer-winning drama, "Disgraced," to tour China in April, stimulating discussions about post-9/11 race and religion in America among Chinese students. The production reached more than 10,000 students in five cities and 14 universities, academic institutions and cultural centers through performances, workshops and discussions.
Ms. Friedman, Director Timothy Douglas and actors Fajer Al-Kaisi and Rachel Leslie shared their experiences performing in China and talking with Chinese youth for the first time. Ms. Friedman discussed how this tour and other people-to-people exchanges in the arts address crucial issues in China and the United States.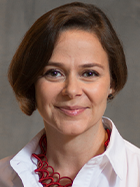 Alison M. Friedman
Alison M. Friedman is the founding director of Ping Pong Productions, a U.S.- and Beijing-registered cultural exchange organization that uses the performing arts to bring China and the world together.
Ms. Friedman works closely with Chinese and other governments, non-profit and private sector organizations, using the performing arts to foster mutual understanding and engagement. Productions have toured more than 50 countries on five continents, including Lincoln Center, Sydney Opera House, Sadler's Wells, The John F. Kennedy Center for the Performing Arts, China's National Center for the Performing Arts, and others.
Ms. Friedman has served as international director of the Beijing Modern Dance Company, and helped establish the Shanghai office of award-winning composer Tan Dun. She was a 2002-03 Fulbright scholar to China, a 2009-10 arts management fellow at the John F. Kennedy Center in Washington D.C., and a 2014-16 fellow in the National Committee on U.S.-China Relations Public Intellectuals Program. She serves on the board of the International Society of the Performing Arts.
Ms. Friedman regularly gives keynotes in both English and Chinese about China's emerging performing arts market, and has been cited as an expert on China's arts industry by such media as The New York Times, and China Daily. She has also served as a producer and host on Chinese national radio and television programs.

Fajer Al-Kaisi
Fajer Al-Kaisi is the leading actor in "Disgraced." He has extensive acting experience on stage and screen and as a voice-over artist and audiobook narrator. He has appeared in numerous television shows and films including "Law and Order," "30 Rock," "Billy Lynn's Halftime Walk," and many others.
Mr. Kaisi is a recipient of the 2015 Audie semi-finalist award for best male narration in an audiobook for his work on 'fives and twenty fives' and has been nominated for best Ensemble at the 2011 Drama League awards, and is a frequent partner and contributor with NOOR theatre in New York. He is also a frequent collaborator with New York Theatre Workshop.
Mr. Kaisi holds a master's degree in fine arts from the University of Texas at Austin and a BFA in theatre performance from Concordia University in Montreal.

Timothy Douglas
Timothy Douglas is a New York-based theater director, actor, writer and educator, and director of "Disgraced." He serves as an associate artist for Cincinnati Playhouse in the Park, and has also directed nationally and internationally for numerous theaters and production companies. From 2001 to 2004 Mr. Douglas served as the associate artistic director at Actors Theatre of Louisville, and from 1994 to 1997 as a director-in-residence in new play development at the Mark Taper Forum and Center Theatre Group under a Mellon Foundation fellowship.
Mr. Douglas is also an associate artist at Milwaukee Repertory Theater, and has served as a site visitor/panelist for the National Endowment for the Arts, Theatre Communications Group, The Drama League, The Philadelphia Theatre Initiative, and The Joyce Foundation.
As a Linklater-designated voice instructor, Mr. Douglas served on the faculties of Emerson College, American Conservatory Theater, University of North Carolina School of the Arts, Shakespeare & Company, National Theatre Conservatory, University of Southern California, the Theatre School at DePaul University and New Zealand Drama School.
As an actor Mr. Douglas has appeared regionally, off-Broadway and on television; he is a graduate of Marymount Manhattan College and Yale School of Drama.

Rachel Leslie
Rachel Leslie is a New York City-based actor who works in theater, film, television and audio book narration. Representative work in theater includes "Seven Guitars," "All The Way," "The Crucible," and "Nightlands." Her film and television credits include "Difficult People," "Unforgettable," "Alpha House," "666 Park Avenue," "Law & Order," "The Ticket" and "Quietly."
Ms. Leslie enjoys developing new plays and has done numerous workshops and world premiers with The Humana Festival, The O'Neill Festival, PlayPenn and New Dramatists among others. She is also a member of Quick Silver Theater Company and The Actor's Center.
Ms. Leslie holds a BA in psychology from George Washington University and an MFA in acting from Temple University.