Monday, April 25, 2022 | 5:30 PM EDT - 6:00 PM EDT
Zoom Interview | Kevin Rudd
A war between China and the United States would be catastrophic, but, unfortunately, is no longer unthinkable. In The Avoidable War, Kevin Rudd demystifies the actions of both sides, describing how the countries can coexist without betraying their core interests.

According to Mr. Rudd, a former Australian prime minister who has studied, lived in, and worked with China for more than forty years, the relationship between the United States and China is especially volatile. It sits atop cultural misunderstanding, historical grievance, and ideological incompatibility. No other nations are so quick to offend and be offended; the capacity for either country to cross a critical line is growing rapidly.
Mr. Rudd discusses how the United States and China can find a way to co-exist without compromising their core interests through "managed strategic competition" in an interview conducted on April 25, 2022.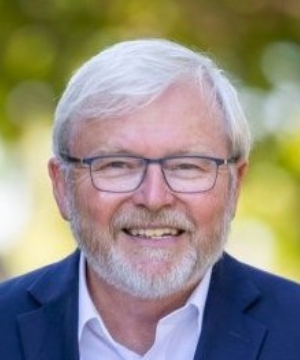 Kevin Rudd
Kevin Rudd, president and CEO of the Asia Society since January 2021 and president of the Asia Society Policy Institute since 2015, served as Australia's 26th prime minister (2007-2010), then as foreign minister (2010-2012), before returning as prime minister in 2013.
Mr. Rudd is chair of the board of the International Peace Institute, and member of the IMF Managing Director's External Advisory Group. He is a senior fellow at Harvard University's John F. Kennedy School of Government, a distinguished fellow at Chatham House (London), a distinguished statesman with the Center for Strategic and International Studies (Washington, D.C.), and a distinguished fellow at the Paulson Institute (Chicago). Mr. Rudd serves on the International Advisory Board of the Schwarzman Scholars program at Tsinghua University.
A graduate of the Australian National University, Mr. Rudd also studied at National Taiwan Normal University in Taipei. He is proficient in Mandarin.