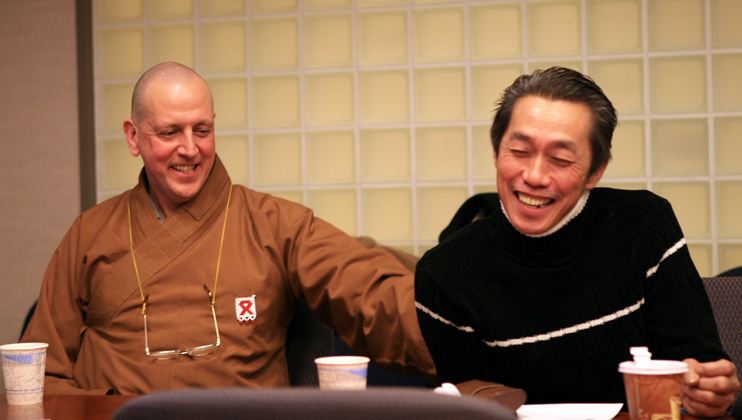 The Chinese media is giving greater attention to HIV/AIDS, yet it often ignores the effects of HIV/AIDS-related stigma and discrimination. A National Committee exchange program, conducted in the spring and summer of 2006, was designed to highlight the roles that journalists can play in combating stigma and discrimination, call attention to society's attitudes toward marginalized groups, encourage community involvement in finding solutions and stimulate policy debates on a national response.
The first phase of the project was a two-week study tour of the United States for seven Chinese journalists. They represented a mix of print and broadcast media and some of the most watched or read news outlets in the country. The group traveled to New York and San Francisco, the two epicenters of the American HIV/AIDS epidemic; Baltimore, the base of one of our project partners, the Center for Communication Programs (CCP) at Johns Hopkins University's Bloomberg School of Public Health; and Washington, DC. Over the course of the study tour, participants met with journalists and other media professionals whose coverage of HIV/AIDS has had an impact on policy debates, as well as on public awareness and attitudes. They also visited HIV/AIDS service providers, public health officials, medical researchers and others whose organizations are on the forefront of the fight against HIV/AIDS. In addition, they received two days of training at Johns Hopkins on ways of designing and implementing strategic communication programs that influence discourse and behavior.
The second phase consisted of workshops for journalists in Beijing, Changsha and Guangzhou, led by American and Chinese specialists. The American delegation included three veteran journalists and two experts from CCP with experience in behavior change communication. The Beijing workshop was held in collaboration with our Chinese partner, Tsinghua University's School of Journalism and Communication, and attracted journalists from across the country. Among the many issues discussed were how to turn medical jargon into language that the general public understands and relates to; how to avoid unintentional stigmatization and remain truthful when telling human interest stories; and how to foster a sense of professional responsibility and ethics among reporters. These themes were reprised at the Changsha and Guangzhou sessions.

Related Documents
HIV/AID and the Chinese Media, Notes – Summer 2006