Tuesday, May 23, 2017 | 4:30 PM EDT - 6:30 PM EDT
Harvard Club |, New York, NY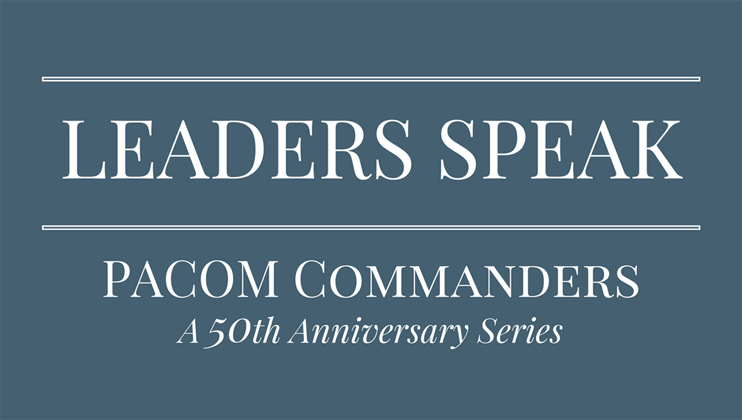 The United States Pacific Command (USPACOM) is the world's largest military command, with an area of responsibility encompassing about half the earth's surface and approximately 375,000 U.S. military and civilian personnel. A critical branch of the U.S. Armed Forces, USPACOM plays an important role in protecting and defending U.S. territory, people, and interests, and also enhances stability in the Asia-Pacific region. On May 23, 2017, four former USPACOM commanders, in discussion with National Committee President Stephen A. Orlins, reflected on their time in command and addressed issues such as rising tensions on the Korean Peninsula, the South China Sea, cross-Strait relations, among other topics
This program was part of a series of events celebrating the National Committee's 50th Anniversary. For more information about the Leaders Speak series, please click here. For more information about additional 50th Anniversary programs, please click here.
Related Video: Click here to watch Leaders Speak: Defense Secretaries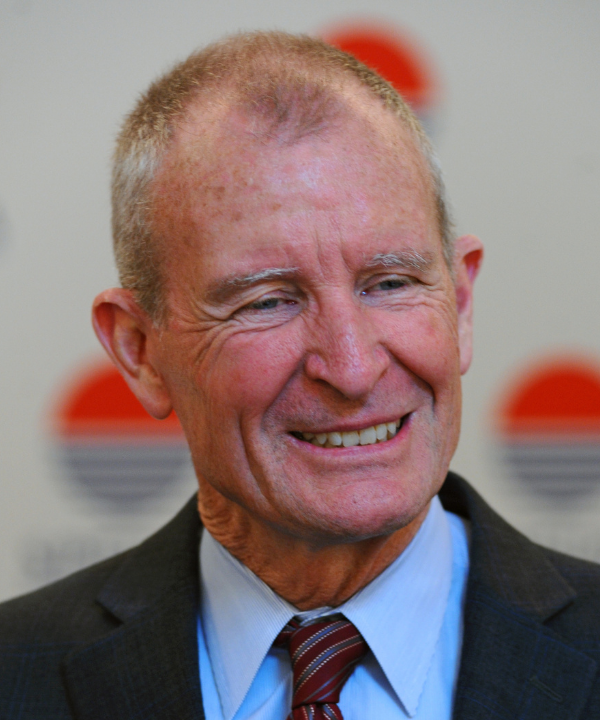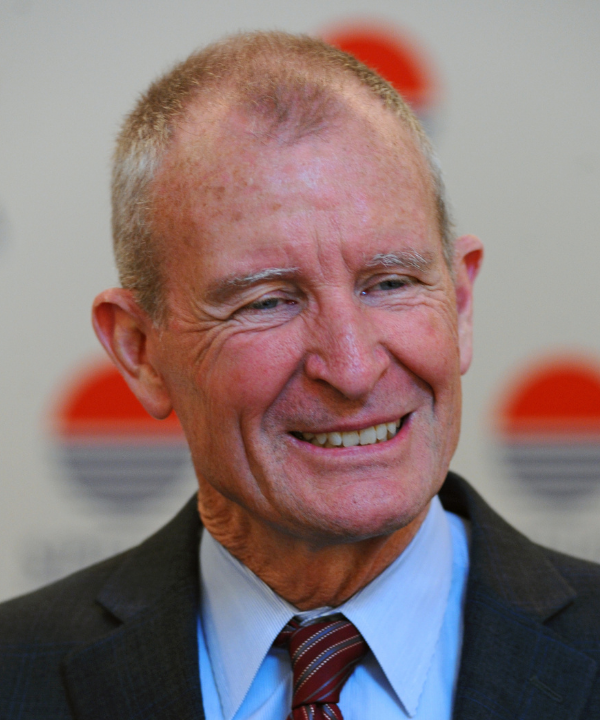 Admiral Dennis C. Blair
Admiral Dennis C. Blair served as PACOM commander from 1999 to 2002, retiring after 34 years of service in the Navy. During his naval career, Admiral Blair served on guided missile destroyers in both the Atlantic and Pacific fleets and commanded the U.S.S. Kitty Hawk Battle Group. Ashore, he served as director of the Joint Staff and held positions on the National Security Council and several major Navy staffs.
As director of national intelligence, from January 2009 to May 2010, Admiral Blair led sixteen national intelligence agencies, managed a budget of $50 billion, and provided integrated intelligence support to the president, congress, and operations in the field.
From 2003 to 2006, Admiral Blair was president and chief executive officer of the Institute for Defense Analyses, which supports the Departments of Defense and Homeland Security, as well as the intelligence community.
Admiral Blair has served as a director of both public and private corporations, including Tyco International, EDO Corporation, and Iridium LLC. Admiral Blair co-chaired the Federal Commission on the Theft of American Intellectual Property. He is the author of Military Engagement: Influencing Armed Forces Worldwide to Support Democratic Transitions (Brookings Institution Press, 2013).
Admiral Blair is chairman of the board and distinguished senior fellow of Sasakawa Peace Foundation USA. He joined in 2014 and, as chief executive officer from then until February 2017, led the team through a refocusing of its mission and a greatly expanded staff. Admiral Blair has deep experience in Japan and Asia issues and serves as a member of the Energy Security Leadership Council, and is on the boards of the National Committee on U.S.-China Relations, Freedom House, National Bureau of Asian Research, and Atlantic Council. He currently chairs an advisory committee for Lockheed Martin Space Systems.
A graduate of the U.S. Naval Academy, Blair earned a master's degree in history and languages from Oxford University as a Rhodes scholar, and was a White House fellow at the Department of Housing and Urban Development. He has been awarded four Defense Distinguished Service medals, three National Intelligence Distinguished Service medals, and received decorations from the governments of Japan, Thailand, Korea, Australia, the Philippines, and Taiwan.
Admiral Timothy J. Keating
Admiral Timothy J. Keating retired in December 2009 after serving for three years as PACOM commander. While in command, Admiral Keating visited over 30 countries, meeting diplomats, military officials and commercial leaders to emphasize active engagement with national and international partners in preserving the security and stability upon which the Asia-Pacific region's success depends.
Prior to his tour at the Pacific Command, Admiral Keating was commander of the United States Northern Command, responsible for protecting the U.S. homeland and providing support to federal, state, and local officials in times of crisis. Simultaneously, he was also commander of the North American Aerospace Defense Command, providing aerospace warning, air sovereignty, and defense for the United States and Canada.
Previous tours include service as the director of the Joint Staff in the Pentagon, command of the United States Fifth Fleet and all naval forces in the U.S. Central Command headquartered in the Kingdom of Bahrain, deputy chief of naval operations in the Pentagon, command of the U.S.S. Kitty Hawk Battle Group stationed in Yokosuka, Japan, and deputy director for operations on the joint staff in the Pentagon. Prior to this, Admiral Keating held command positions at the Naval Strike Warfare Center, a Carrier Air Wing and an F-18 Squadron.
Admiral Keating is a 1971 graduate of the U.S. Naval Academy and served as a chief of naval operations fellow with its strategic studies group. He has accumulated over 5,000 hours of flight time in tactical jets and has landed on Navy aircraft carriers over 1,200 times. In addition to numerous U.S. awards, he has received military decorations from Great Britain, Bahrain, Canada, Japan, the Republic of Korea, the Philippines, Taiwan and Singapore. He is a proud honorary master chief petty officer in the U.S. Navy.
Admiral Keating is an international strategic advisor for several corporations.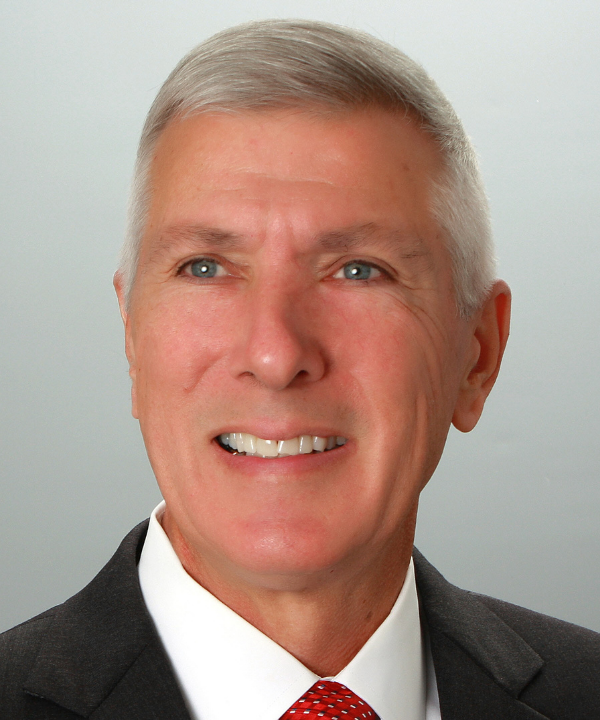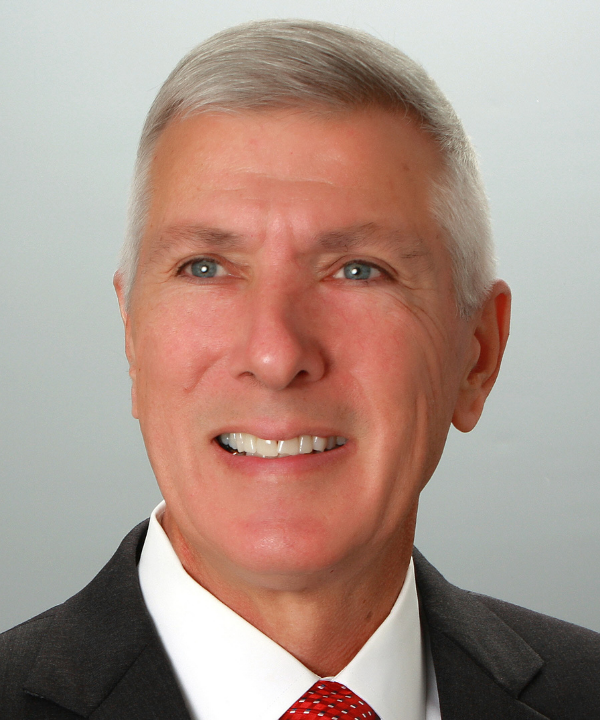 Admiral Samuel J. Locklear III
Admiral Samuel J. Locklear III was PACOM commander from 2012 to 2015, leading all U.S. military forces operating across more than half the globe. In this position, he assessed the geopolitical environment of the Indo-Asia-Pacific and managed U.S. military relationships with five Pacific treaty allies, numerous key security partners, and emerging multilateral security forums. He retired from the U.S. Navy as a four-star admiral in 2015, after serving with distinction for over 39 years, including 15 years of service as a Flag Officer and leading at the highest level in various U.S. military forces.
Prior to that, Admiral Locklear served as commander of the U.S. Naval Forces in Europe and Africa, managing the U.S. Navy's relationships with all key navies throughout two continents. In response to a 2011 UN mandate, Admiral Locklear designed and led a multinational coalition joint task force and commanded the follow-on NATO Operation Unified Protector until the final collapse of the Gaddafi regime later that year.
As commander of NATO's Allied Joint Force Command, Admiral Locklear provided operational-level command and oversight of NATO's ongoing stability operations in Kosovo and NATO's training mission in Iraq. He was a primary architect of NATO's 21st century command structure.
A nuclear-qualified surface warfare officer, Admiral Locklear served on numerous commands at sea and ashore, and was director of the Navy staff, the 78th Commandant of Midshipmen at the U.S. Naval Academy, and head of the Navy programming and assessment divisions.
Admiral Locklear is currently president of SJL Global Insights LLC, a global consulting firm specializing in a wide range of security and defense issues and initiatives. He also serves on the Board of Directors for the National Committee on U.S.-China Relations, the advisory board for the Center for Strategic and International Studies Sumitro Chair for South East Asia Studies, and as a senior advisor to The Center for Climate and Security.
Admiral Locklear is a 1977 graduate of the U.S. Naval Academy and a 1992 graduate of the National Defense University's Industrial College of the Armed Forces. He earned a master's degree in Public Administration from George Washington University. His awards and decorations include the Defense Distinguished Service Medal, Defense Superior Service Medal, Legion of Merit, Bronze Star, and decorations from South Korea, the Philippines, Australia, and France.
Admiral Joseph W. Prueher
Admiral Joseph W. Prueher completed 35 years in the U.S. Navy in 1999.  His last command was as commander in chief of PACOM. He then served two presidents as ambassador to the People's Republic of China from 1999 to 2001. From 1989 through 1995, Admiral Prueher served as commandant at the U.S. Naval Academy at Annapolis, commander of Carrier Battle Group ONE based in San Diego, commander of the U.S. Mediterranean Sixth Fleet and of NATO Striking Forces based in Italy, and as vice chief of naval operations in the Pentagon. Primarily a carrier-based attack pilot for his first 24 years of service, Admiral Prueher also spent three years as a Navy test pilot at Patuxent River, Maryland.
Admiral Prueher is the former James R. Schlesinger Distinguished Professor at the Miller Center of the University of Virginia, as well as senior advisor to the Stanford-Harvard Preventive Defense Project, where he works on a dialogue for U.S.-China security matters.
He currently serves as a vice chairman of the National Committee on U.S.-China Relations, and is a member of the Council on Foreign Relations. He serves as a director of multinational corporations Emerson and Fluor Corporation, and American companies New York Life and AmeriGroup. He is a former director of Merrill Lynch, Bank of America, and DynCorp International.
A native of Nashville, Tennessee, Admiral Prueher graduated from Montgomery Bell Academy, and then graduated with distinction in 1964 from the U.S. Naval Academy, later receiving an M.S. in international relations from George Washington University.