Wednesday, January 7, 2015 | 8:00 AM EST - 8:00 AM EST
New York Stock Exchange |, New York, NY

China's economic policy and development exert a profound influence on global financial markets and the U.S. economy. To better understand the future trajectory of China's economy, each year since 2010 the National Committee on U.S.-China Relations and Peking University's China Center for Economic Research (CCER) have jointly organized an annual half-day forum at the New York Stock Exchange (NYSE). The forum brings together leading authorities on China's economy to present their forecasts of China's economy in the coming year and their latest research on pressing economic issues.
Nearly three hundred participants gathered for the sixth annual half-day forum, which was held on Wednesday, January 7, 2015 at NYSE  and again featured Justin Lin Yifu, one of China's most influential economists and former chief economist and senior vice president of the World Bank. He spoke on China's mid-term and long-term growth prospects. CCER Professor Lu Feng provided a forecast and analysis of China's macro-economic situation. Dr. Qin Xiao, chairman of the Boyuan Foundation and former chairman of China Merchants Bank, gave the keynote speech on China's outbound investment in the global context. CCER economist Huang Yiping and managing director of CICC Huang Haizhou shared their perspectives on and analysis of interest rate liberalization and new developments in China's capital markets. In addition, top economists from the business side, Tang Min and Hu Yifan, offered their insights on the reform agenda and its implementation in the coming year, including the important issue of the new Budget Law and local government debt, based on their practical experience.
Following the Forecast, the Chinese economists were joined by key American economic thinkers and business leaders. Together, in a daylong off-the-record dialogue, the two groups discussed the states of both countries' economies and their impacts on the global economy. The dialogue also included some discussion of the implications of a Free Trade Agreement and the on-going negotiations of a Bilateral Investment Treaty.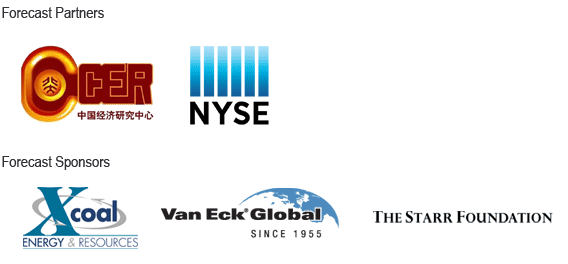 Politics & Foreign Relations
Politics & Foreign Relations
Politics & Foreign Relations
Politics & Foreign Relations
Recorded 1/7/15
Politics & Foreign Relations
Recorded 1/7/15
Politics & Foreign Relations
Recorded 1/7/15
Politics & Foreign Relations
Recorded 1/7/15
Politics & Foreign Relations
Recorded 1/7/15