Thursday, April 23, 2020 | 5:00 PM EDT - 6:00 PM EDT
Zoom webinar | Dennis Blair
As the impact of technology gains increasing strategic importance in the U.S.-China relationship, we launched Navigating China's Technological Rise, a series of virtual programs featuring conversations with leading experts on the critical issues and policies affecting the technology industry and its impact on Sino-American ties. This event has already occurred, please click here to view the next event in the series.
Former National Intelligence Director and Commander in Chief of the U.S. Pacific Command Admiral Dennis Blair was the featured speaker for the first event in the series, "Charting a Course from Competition to Collaboration," on April 23, 2020. Admiral Blair, also a National Committee director, discussed the rise of China's technological capabilities, the related strategic challenges, and how a U.S. approach can best balance regulation and collaboration. The discussion and Q&A was moderated by NCUSCR President Stephen Orlins.
This program was initially intended to be held in-person in late-April for National Committee corporate members. Due to ongoing concerns surrounding the coronavirus, we decided to migrate it online. We were pleased to open this program up to the broader NCUSCR community and to include you in these important discussions.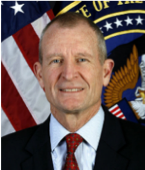 Dennis Blair
Admiral Dennis Blair is the first Knott Distinguished Visiting Professor of the practice of UNC Chapel Hill's peace, war, and defense curriculum. He was formerly the CEO and chairman of the board of Sasakawa Peace Foundation USA. He serves as a member of the Energy Security Leadership Council; is on the boards of Freedom House, National Bureau of Asian Research, National Committee on U.S.-China Relations, and the Atlantic Council. From January 2009 to May 2010, as Director of National Intelligence, Admiral Blair led the sixteen national intelligence agencies. He was president and chief executive officer of the Institute for Defense Analyses from 2003 to 2006. Prior to retiring from the Navy in 2002, after a career of 34 years, Admiral Blair was the Commander in Chief, U.S. Pacific Command.

A graduate of the U.S. Naval Academy, Admiral Blair earned a master's degree in history and languages from Oxford University as a Rhodes scholar. He is the author of Military Engagement: Influencing Armed Forces Worldwide to Support Democratic Transitions. Three commissions he co-chaired have issued recent reports: "A National Security Strategy for 5G"; "Oil Security 2025: U.S. National Security Policy in an Era of Domestic Oil Abundance"; "The Report of the Commission on the Theft of American Intellectual Property."