Thursday, May 19, 2011 | 9:30 PM EDT - 11:00 PM EDT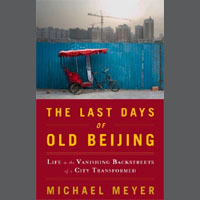 At a National Committee public program on May 19, author
Michael Meyer
discussed living in one of Beijing's oldest hutongs, a traditional alleyway neighborhood which defined the city's layout for centuries. Mr. Meyer's first book,
The Last Days of Old Beijing
, chronicles the destruction of many of these neighborhoods as the city was redesigned for the 2008 Summer Olympics.
Bio:
Michael Meyer initially went to China in 1995 as a Peace Corps volunteer. His first book,
The Last Days of Old Beijing: Life in the Vanishing Backstreets of a City Transformed
, details the capital's oldest neighborhood as the city remade itself for the 2008 Olympics. A Guggenheim Fellow and Lowell Thomas Award winner for travel writing, Mr. Meyer has published pieces in
The New York Times Book Review
,
Time
,
Smithsonian
,
The Financial Times
,
Sports Illustrated
,
The Chicago Tribune
, and
The Los Angeles Times
. In 2009, Mr. Meyer received the Whiting Writers' Award. He is currently in residence at the New York Public Library's Cullman Center for Scholars & Writers.
Politics & Foreign Relations
Recorded 1/6/11