Thursday, October 3, 2013 | 9:30 PM EDT - 9:30 PM EDT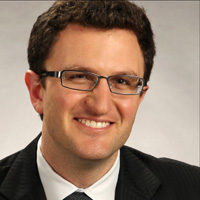 China will soon have the world's largest economy, but authors Damien Ma and William Adams argue that China's economic growth will constrain it, not empower it. As has been the case for much of its history, China will continue to be shaped by scarcity.
At a National Committee program on October 3 in New York City
, Damien Ma and William Adams discussed their new book,
In Line Behind a Billion People: How Scarcity Will Define China's Ascent in the Next Decade
. Bios:
William Adams
is an assistant vice president and senior international economist for The PNC Financial Group. He serves as PNC's spokesman on global economic issues and is responsible for its forecasts for the Eurozone, China, and other major emerging markets. Formerly resident economist at The Conference Board China Center, Adams has written extensively on China's economic and financial reforms. He is a center associate and advisory board member of the University of Pittsburgh Asia Studies Center, and a member of the economics advisory board of the Duquesne University Palumbo Donahue School of Business. Mr. Adams received his bachelor's degree from Harvard and his master's degree from the Johns Hopkins School of Advanced International Studies (SAIS).
Damien Ma
is a fellow at the Paulson Institute, where he works on investment and policy programs. Previously, Ma was a lead China analyst at the Eurasia Group, a political risk research and advisory firm. He focused on the intersection of Chinese policies and markets, concentrating on energy and commodities, industrial policy, elite politics, US-China relations, and social policy. His advisory and analytical work served a range of clients including institutional investors, multinational corporations and the U.S. government. Prior to joining the Eurasia Group, he was manager of publications at the US-China Business Council in Washington, D.C. He also worked at a public relations firm in Beijing; his clients ranged from Ford to Microsoft. In addition, Ma writes regularly for the
Atlantic Monthly
online and publishes widely, including in
Foreign Affairs
,
The New Republic
, and
Foreign Policy
, among others. He has appeared in a range of broadcast media such as the Charlie Rose Show, Bloomberg, NPR, and CNBC. He also served as an adjunct instructor at Johns Hopkins SAIS and is a term member of the Council on Foreign Relations. He speaks fluent Mandarin Chinese.
Politics & Foreign Relations
INTERVIEW | Damien Ma and William Adams – In Line Behind a Billion People: How Scarcity Will Define China's Ascent in the Next D
Politics & Foreign Relations
Recorded 10/3/2013