Tuesday, September 24, 2019 | 7:00 PM EDT - 9:00 PM EDT
Craig B. Allen Carla A. Hills Henry A. Kissinger Evan G. Greenberg Wang Yi Stephen A. Orlins
The National Committee on U.S.-China Relations and the US-China Business Council, in cooperation with the Council on Foreign Relations and the U.S. Chamber of Commerce, were pleased to welcome Chinese State Councilor and Foreign Minister Wang Yi at a dinner on September 24, 2019.
This event continues a National Committee tradition of welcoming every senior Chinese leader to the United States since Deng Xiaoping's historic visit in 1979.
Bio
WANG YI was appointed minister of Foreign Affairs in March 2013, and, since 2018, has also served as a member of the State Council. He has been with the Ministry of Foreign Affairs (MFA) – and working on China's foreign relations in Asia – for most of his career.

Wang Yi was born in 1953 in Beijing. He spent eight years (1969 to 1977) as a "sent-down youth" in Inner Mongolia during the Cultural Revolution. In 1982, after his return to Beijing, he received his bachelor's degree from Beijing International Studies University with a major in Japanese. In 1997, he was a visiting scholar at the Institute for Foreign Relations at Georgetown University, and subsequently received his master's degree in international relations from the Chinese Foreign Affairs University.

In 1982, Wang Yi took an entry-level position at the Asian Department of the MFA, working his way up to become a division director by 1989. He then moved to the Chinese Embassy in Tokyo, working as a counselor and then minister-counselor. In 1994, he returned to Beijing to become deputy director-general of MFA's Asian Department, and was promoted to director-general the following year. In 1998, he was promoted again to become an assistant minister at the Ministry, as well as head of its Policy Research Office.

From 2001 to 2004, he served as vice minister of foreign affairs before being named China's ambassador to Japan, where he served until 2007. In 2008, he was appointed director of the State Council's Taiwan Affairs Office, and in 2013 became minister of foreign affairs. Wang Yi was appointed a member of the 18th Chinese Communist Party (CCP) Politburo in November 2012, and was also a member of the 17th CCP Central Committee from 2007 to 2012.
Program
Welcoming Remarks
The Honorable Craig B. Allen
President, The US-China Business Council
Toast and Introduction of The Honorable Henry A. Kissinger
The Honorable Carla A. Hills
Chair, National Committee on United States-China Relations
Chair and Chief Executive Officer, Hills & Company
Remarks via Video
The Honorable Henry A. Kissinger
Chairman, Kissinger Associates
Former U.S. Secretary of State
Dinner Service
Introduction of His Excellency Wang Yi
Mr. Evan G. Greenberg
Chair, The US-China Business Council
Chairman and Chief Executive Officer, Chubb
Remarks
His Excellency Wang Yi
State Councilor and Foreign Minister of the People's Republic of China
Closing Remarks
Mr. Stephen A. Orlins
President, National Committee on United States-China Relations
Photo Gallery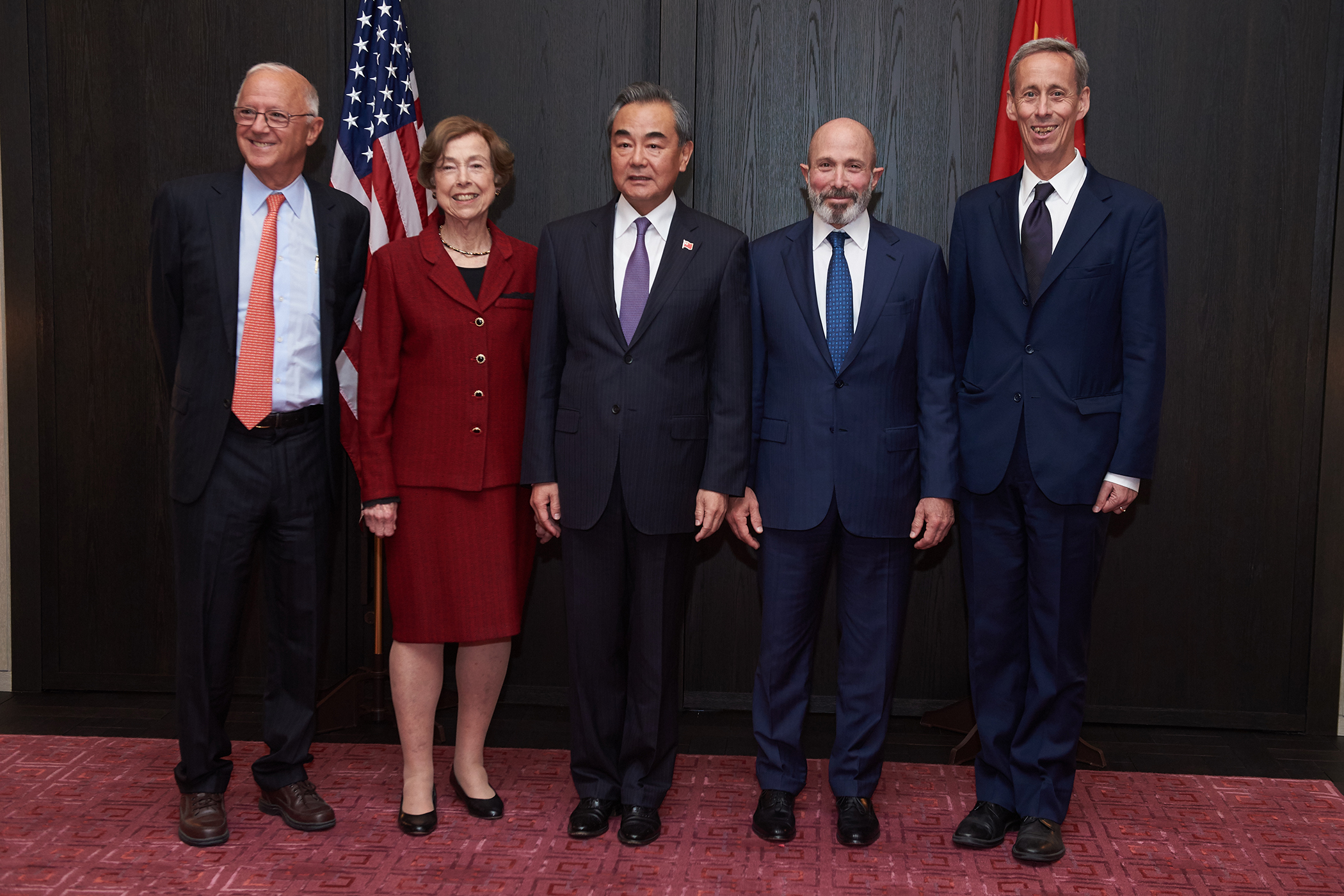 September 24, 2019 | China-U.S. SkyClub, New York City

The Honorable Henry A. Kissinger
Chairman, Kissinger Associates, and former U.S. Secretary of State

Reception and Dinner Honoring His Excellency Wang Yi
State Councilor and Foreign Minister of the People's Republic of China

Henry A. Kissinger: Mr. State Councilor, friends from the National Committee and the US-China Business Council, fifty years ago I had the honor of beginning a dialogue with Chinese officials. And so, I welcome the presence of the State Councilor at this moment. We began our conversations when both sides were convinced, and had proclaimed, that they were adversaries. And it was conducted because of the conviction that the peace of the world, required dialogue and concerted action between China and the United States. The need for this dialogue has increased over the decades. Mr. State Councilor, you are arriving at a moment of some dispute between the United States and China. And there are many points of view in both countries, which amount to a 'decoupling' of the efforts of joint conceptions and dialogue.

I believe, and I am sure that most of my friends here in this room believe, that, at this moment, it is more important than ever to have a constructive dialogue between the two sides. A constructive dialogue must respect the core interests of both countries. It will keep in mind the necessities for peace. It will know that the global issues have to be faced from the point of view of certain realities. The two countries have different social systems, and come to different conclusions about how to deal with some matters. But the two countries must also understand that conflict is not an option, because the technology on both sides has become so complex and so dangerous that it can get out of control. In fact, one of the great challenges of our period is to reach an understanding about the implications of modern technology and the conditions in which the originators of technological changes may not be able to control the full outcome of their evolution.

As two big countries, we are bound to encounter each other all over the world. It is also likely that our judgments about particular situations will differ. But it is certain that continued confrontation between the two sides is going to create situations that are dangerously out of control. So for all of these reasons, we welcome you, Mr. State Councilor. We hope your discussions will be productive. Each of the sides will believe in the validity of their points of view, but the peace of the world cannot be achieved without a willingness to consider the point of view of other parties. We started this relationship. And history imposes on us the need to deepen it and to apply it to situations on which the peace of the world and the progress of the world depends.

So, we hope, Mr. State Councilor, that you have a fruitful visit, and that it will contribute to a process in which both sides can feel that their fundamental interests are protected, their essential national purposes achieved, and the prospects of peace in the world greatly improved. Thank you for this opportunity.

September 24, 2019 | China-U.S. SkyClub, New York City

Reception and Dinner Honoring His Excellency Wang Yi
State Councilor and Foreign Minister of the People's Republic of China

Wang Yi: Ladies and gentlemen, it is my great pleasure to come to New York again and meet so many friends, both old and new.
First of all, let me thank Ambassador [Carla A.] Hills, Mr. [Maurice R.] Greenberg, also the president for their very warm and friendly remarks. And those are rarely heard today in the United States. It seems that to say some kinds of words about China-U.S. relations needs courage for the time being.

I very much appreciate the fact that the much-respected Dr. [Henry A.] Kissinger in his message shared with us many insights and he stressed in particular that under the current circumstances it is all the more important for China and the United States to enhance dialogue. And he highlighted the imperativeness and urgency for China-U.S. dialogue. I fully agree with his point and today, it is such a good opportunity to do that.

During the UNGA Leaders Week last year, I spoke at the Council on Foreign Relations and I argued that the crux of the China-U.S. relationship was the U.S. perception of China, a China that is constantly growing and developing. I asked the audience to think really hard about the key questions. Is the peaceful, cooperative, and open China an opportunity or a challenge for the United States? Is the proactive and constructive China on the world stage a partner or an adversary for the United States?

One year on, these questions are still being debated in the United States, which seems to be leading to two different views. And in my conversation during dinner, American friends also shared with me this reality. Well, this may not be a bad thing for a relationship as important and complex as China-U.S. relations as debates will help people get closer to facts and truth. I believe at the end of the day, American friends will reach sensible consensus and find the right answer to those questions.
Well, present here today are long-time friends of China. Before I expound on the government position, I want to take this opportunity and to on this occasion of the 40th anniversary of China-U.S. diplomatic relations on behalf of the Chinese government to all those who are devoted and contributed to this important relationship, I want to express our deep appreciation to all your efforts. This year marks the 70th anniversary of the founding of the PRC as well as the 40th anniversary of our diplomatic relations; Confucius said, at the age of 40 there should be no confusion.

This is a historic moment that means a lot to both countries. We need to stand high, look far, and take this bilateral relationship forward with vision and conviction. Over the past four decades, these relations have weathered many twists and turns. Yet it has a steady move forward with progress beyond even the boldest imagination. Dr. Kissinger actually said that, not me. It has brought tremendous benefits to both nations and contributed greatly to peace, stability, and prosperity across the world.

On the other hand, however, China-U.S. relations today, has once again come to a crossroads. Some people are using every means to depict China as a major adversary. Marketing their prophecy that the relationship is doomed to fall into the Thucydides trap or the clash of civilizations trap, and even clamor a full decoupling with China.

And several speakers all touched upon this alarming and worrisome trend for inclination. Therefore, this giant ship of China-U.S. relations is faced with two very different routes. One features calm seas and growth prospects. The other is churning waters and raging waves. It backs the question where the China-U.S. relations will go in the next 40 years? Are we going to move ahead along the right route or veer onto the wrong one with endless troubles ahead?

When we assess and decide on such a momentous issue, we must turn to history and look at the past four decades of China-U.S. relations for inspiration and guidance. The past has already revealed to us the following.

First, mutually beneficial cooperation is the only right option for China and the U.S. and neither country has taken advantage of the other. There is a claim in the U.S. that the country has been ripped off in its cooperation with China. Is that really so? I'm confident that our presidents present here today are aware of the facts. Of course, this is not the fact. The truth is both countries have benefited tremendously from cooperation in the past 40 years. Such cooperation enhanced by our comparative strengths has helped drive robust growth of the U.S. economy, substantially cut the cost of living for American families and enabled American firms to take home huge profits.

Over four decades, China-U.S. trade in goods surged by 252 times. The USCBC [US-China Business Council] report found that between 2009 and 2018, U.S. exports to China alone have supported more than 1.1 million jobs in the U.S. Ninety-seven percent of the U.S. companies surveyed reported profits from doing business with China. And trade with China had saved $850 for every U.S. family on an annual average.

Economic globalization, as the trend of the times should not and cannot be held back. The free flow of resources enabled by globalization has created enormous wealth, yet, it has also lead to an uneven development within countries and trade imbalances between them. The right approach to tackle the domestic challenge is to deepen reform and improve and adjust the distribution system. And issues between nations should be addressed by enhancing global governance through equal dialogue and consultation.

Neither scapegoating nor unilaterally initiating a trade war is the right prescription. The trade frictions between China and the U.S. in the past year and more have inflicted losses in both countries, losses that shouldn't have happened. Higher tariffs have raised the production cost of American firms, pushed up U.S. consumer prices, and dampened the growth potential of the U.S. economy. Businesses, farmers, and consumers of the U.S. have felt the mounting pressures.

For instance, the Federal Reserve Bank of New York estimated that due to the additional tariffs imposed on the $250 billion of Chinese exports in 2018, U.S. consumers have to spend an extra $52.2 billion every year. That is $414 more in expenditure for every U.S. family. According to The Trade Partnership, an American consulting service, a 25 percent additional tariff on the $300 billion of imports from China, or maybe even 30 percent of additional tariff will make at least 2 million American jobs disappear, drive up household cost by over $2,000, and wipe out 1 percent of U.S. GDP. These are not figures from Chinese institutions. These are the statistics and conclusions from reputable U.S. institutions and firms. These figures show that only cooperation between us will benefit both countries and the world and trade frictions will only hurt both sides and the whole world.

Second, opening up and integration represents the right direction and neither China nor the United States can move ahead without the other. Over the past four decades, China-U.S. relations have grown in sync with China's reform and opening up as well as globalization of the world economy. The two countries are now among the most important trading partners and investment destinations for each other. Our industrial supply and value chains are deeply interconnected, and our interests closely entwined. In 2018, the bilateral trade exceeded $630 billion and two-way investment surpassed $240 billion in cumulative terms. China has become a major export destination for U.S. aircraft, farm products, automobiles, and integrated circuits.

Of all U.S. exports in 2017, 57 percent of soybeans, 25 percent of aircraft, 20 percent of automobiles, 14 percent of integrated circuits, and 17 percent of cotton was sold to China. At present, there are five million travels between our two countries every year. That translates to 17,000 passengers every day, with one flight either taking off or touching down every 17 minutes. Given the size of our economies and the level of interdependence, the so-called decoupling or shutting the door to each other is just like an attempt to build castles in the air. It is neither sensible nor realistic.

After several decades of hard work of the Chinese people, the Chinese economy has grown from a small pond to something as big as a vast ocean. China is now the world's second largest importer of goods and services. It has the world's biggest and most promising market with the largest and fastest-growing middle income population. Decoupling from the Chinese economy would be to decouple from opportunities and from the future. The U.S. business community should well appreciate this logic.

According to U.S. statistics, despite the ongoing trade frictions, U.S. companies invested $6.9 billion in China in the first half of this year, an increase of 1.5 percent over the average level in the same period of the last two years. Eighty-seven percent of U.S. companies in China stated that they would stay in the Chinese market because the advanced supply chain and labor force in China are just irreplaceable. Seventy-four percent of the members of the American Chamber of Commerce in China plan to invest more in China.

In addition, opening up is China's set state policy. China's door will not be closed; it will only open even wider. We fulfilled as early as in 2010 our tariff reduction commitments made upon joining the WTO [World Trade Organization]. Currently, our average tariff has dropped to 7.5 percent. Our WTO accession commitment was 10 percent. So we have over-fulfilled that commitment. I was also talking to Mr. Evan [G.] Greenberg that among all the developing countries, China has the lowest average tariff level. For example, the figure for India and Brazil is 13 percent and more.

China has also taken the initiative to host an international expo on imports, opening its market and sharing its development opportunities with all other partners. China is accelerating a structural reform. This month we announced a further opening of the Chinese market by abolishing the QFII [Qualified Foreign Institutional Investor] and RQFII [Renminbi Qualified Foreign Institutional Investor] investment quotas.

I also share this information with our friends and our American friends have also felt the robust steps of opening of the financial sector in China. As you may know, that average manufacturing sector has been fully liberalized in China. The foreign investment law has been passed and the law as well as its matching regulations will enter into force next year to foster a fairer and more transparent business environment governed by a sound legal framework. The management model of pre-establishment national treatment and negative list is being applied in wider areas.

Foreign investors will find the negative list getting shorter and shorter, year by year. Yet opening up should also go both ways. While China opens wider to the U.S. and the rest of the world, we expect the U.S. to do the same to China and remove all unreasonable restrictions. In a word, China's efforts and achievements of reform and opening up in the past several decades have been widely recognized, they should not be deliberately ignored or denied. The fact that China's development and progress in the past several decades has brought enormous benefits to countries in wider world, including the United States, is beyond dispute and should be distorted or discredited by no one. Third, conflict and confrontation will lead nowhere and neither country can mold the other in one's own image.

Since China and the U.S. differ from each other in history, culture, social system, development path, and national conditions, it is natural for us to have disagreements and even frictions. What matters most is how to perceive objectively and handle them properly. Over 2,000 years ago, Chinese Sage Confucius observed, a gentleman seeks harmony without uniformity, whereas a petty man does just the opposite, making the case that real harmony is anchored upon recognition of and respect for differences. Your great philosopher Ralph Waldo Emerson of the 19th century wrote that in true friendship, both parties recognize the deep identity, which beneath their disparities, unites them. The two philosophers, though living millenniums apart, have spoken to the same truth, the advance of human civilization must not stop, still less go backward.

Differences and disparages should not be a chasm that prevents people from engaging each other. Rather, they could become an impetus for mutual learning and shared progress.

In the early years of the People's Republic of China, the United States sought to contain China. The two countries even fought a war on the Korean peninsula, which was followed by 22 years of estrangement and confrontation. General Omar Bradley, then chairman of the Joint Chiefs of Staff, called what happened in Korea, the wrong war, at the wrong place, at the wrong time, and with the wrong enemy.

It wasn't until the 1970s that things began to change. Dr. Kissinger's secret visit to China and the meetings between President Richard Nixon, and Chairman Mao Zedong, and Premier Zhou Enlai, reopened the door of contact and set us on a path toward peaceful coexistence and joint pursuit of prosperity. The ups and downs in our relations provide ample evidence that confrontation and conflict is not in the fundamental interests of either China or the U.S., and that dialogue and cooperation is the only way to go.

Some Americans claim that the U.S. decades long engagement policy has failed in its original purpose of changing China and that it is time to revert back to the containment policy. Such an idea of molding others according to one's own wish is wrong from the very starting point and cannot possibly work. Seventy years have passed and it is important for the United States to avoid picking another misguided fight with the wrong country. The world we live in is a diverse place. In modern times, China made hard explorations and repeated attempts in its quest for development and revitalization, including once introducing the western system, yet those efforts did not succeed because they did not meet China's national conditions and needs.

It wasn't until when the Communist Party of China applied the Marxist theories in light of China's own national conditions, that China found a path that leads to prosperity of the country and happiness of the people, that is the path of socialism with Chinese characteristics. Standing the test of time in the past for seven decades, this path has proven to be the right path, and it has been widely endorsed and firmly supported by the Chinese people. Polls by multiple foreign institutions show that China enjoys the highest domestic support rate in its social system and development path, among all the countries surveyed.

If it is a successful path, why should we change course? If it enjoys the people's support, why should we give it up? Let's ask ourselves: Which other system on earth could ensure unity and stability of a country as enormous and sophisticated as China and make it an important pillar for world peace and security? Which other path could China take to create a miracle of development, lifting 1.4 billion people out of poverty and delivering moderate prosperity in all respects, and, while at it, making such a major contribution to human progress? As an ancient civilization with 5,000 years of history, China will not be blinded by floating clouds. We will maintain our strategic focus and our confidence in our culture. We will not be influenced, and even less manipulated. We will unswervingly follow the path and direction we have chosen. We will always grasp the future of our country and nation in our own hands and march toward the great renewal of the Chinese nation with an indomitable will.

Of course, China's development path ahead is long and winding and much remains to be improved through reform. We welcome all well intentioned advice and valuable opinions from foreign friends. At the same time, countries differ in national conditions and have different needs. We have fully respected the choices other countries, the U.S. included, have made about their systems and paths. We will not, nor is it possible for China to export our social system or development model. Still less, will China follow the old path of past powers who sowed hegemony? It is never China's intention to change the United States. Likewise, the United States should not seek to change China. The United States is working to make America great again, and keeping America great. Like the American people, the Chinese people are also entitled to lead a better life.

These two development goals we cherish are not mutually exclusive, or a zero-sum equation. We may well help each other and work with each other. China's renewal will provide the U.S. with a stable and sustainable market for the long run; a vibrant U.S. will provide China's development with a better external environment. The key is to embrace an open mind and respect each other's right to development and appreciate each other's development accomplishments. In the final analysis, for the sake of our two countries, and for this world, we must find a way for two major countries, different in social system and cultural background, to live together on this planet in peace and cooperate with each other for win-win results.

Fourth, shouldering responsibilities together accords with the trend of history and neither of our two countries can replace the other. Some in the U.S. are hyping up the so called shift of international power. They worry that China will challenge and unseat the United States from its role in the world. It is a strategic misjudgment about China and also reflects a lack of self-confidence. China is still the largest developing country in the world. It is far behind the U.S. in terms of per capita national income, the Human Development Index and sophistication of science, technology, and education.

Moreover, traditional Chinese culture stresses moderation and humility and believes kindness should be reciprocated and repaid. And seeking hegemony has never been in Chinese DNA. China has no intention to play the Game of Thrones on the world stage. For now, and for the foreseeable future, the United States is and will still be the strongest country in the world. Mr. Deng Xiaoping once said humorously, "Should the sky fall, there is the tallest guy to prop it up." We hope the United States will continue to play its due role for global peace and prosperity, and we welcome such a role. Meanwhile, in a world confronted with more and more global challenges, no country can do well in isolation or fix all the problems single handedly. The sharing of international responsibilities is thus a natural trend. In this process, each country, big countries in particular, can well harness its competitive strength and play a role to the best of its ability. China is ready to fulfill its due share of responsibilities.

When the world was hit by the financial tsunami 11 years ago, China and the U.S., together with other countries, worked in solidarity to effectively stem the crisis. Today, there are more destabilizing factors and uncertainties in the international situation. And there are various black swans and gray rhinos across the world. If and when another storm hits, the only choice is still to rally together in the same spirit and with one heart, one mind.

As the second largest contributor to the U.N. regular budget and peacekeeping assessment, China has sent 39,000 peacekeeping military personnel to U.N. peace missions around the world, the largest among the permanent members of the U.N. Security Council. China has played an active part in the multilateral process of global governance regarding climate change, sustainable development, nuclear security, cybersecurity, and nonproliferation.

China has been working with other countries for political settlements of hotspot issues, and we take seriously our cooperation and coordination with the U.S. on all these issues.

President Xi Jinping once pointed out that by working together, China and the U.S. can accomplish great things that benefit both countries and the world. The two presidents have agreed that our two countries need to manage differences on the basis of mutual respect, expand cooperation on the basis of equality, mutual benefit, and jointly advance the China-U.S. relations based on coordination, cooperation, and stability.

So how to effectively implement what our presidents have agreed upon. I wish to share with you three observations. First, for areas where we can cooperate, we need to resolutely advance and deepen such cooperation in a win-win spirit. The truth is, in a fluid international situation, there are more and more areas where China and the U.S. can and should cooperate. Issues ranging from fighting terrorism and drug-related crime, to dealing with issues of the Korean Peninsula and Afghanistan, all require that our two countries engage in focused and deeper cooperation to benefit our people and lend new impetus to the growth of our relations in the new era.
In the past weeks and months, the Chinese government has taken firm measures to schedule fentanyl related substances in a whole class. This has become a new highlight in China-U.S. cooperation. In China-U.S. relations, economic cooperation has been the ballast and people to people exchanges, the propeller. The last thing we should do is to throw off the ballast or shut down the propeller. On the contrary, we need to build on the good work in place and craft new plans based on new realities, actively look for and expand our shared interest, and explore new areas of corporation. Our people's desire for enhanced exchange and cooperation must be honored, interactions on business, science, technology, education, tourism, culture, youth, and at the subnational level must be encouraged, not restricted or blocked.
Second, for issues where we do not see eye to eye with each other, we need to have them properly managed in a spirit of no conflict or confrontation. It is nothing new that there is competition and disagreements between us. However, we must not let our minds be controlled by prejudice and apprehension, or let our relationship be defined by conflict and confrontation. What we need is to have those differences properly handled and keep working to expand common ground while setting aside and easing differences to leave space for dialogue and open up prospects for cooperation.

China's Belt and Road Initiative is not targeted at the U.S. We are open for dialogue and communication should the U.S. have any doubt about the initiative, but there should be no attempt to discredit or undermine it. Regarding the U.S. global alliance system and cooperation proposals, China will respect the traditional influence and actual interests of the United States, yet neither the alliance system nor the proposals should be predicated on harming Chinese interests or targeting China. There is no need for our two countries to guard against each other in Africa, Latin America, or the Middle East. Rather, we should increase mutual understanding and explore the possibility for tripartite cooperation.

Our trade frictions need to be resolved through dialogue and consultation. China has kept its door to negotiation open. Yet the negotiation must be based on mutual respect, equality, mutual benefit, and honoring one's word with action. Negotiation cannot take place under threats or at the expense of China's legitimate right to development. In recent weeks, both sides showed some goodwill on tariffs. Last week, a vice ministerial consultation was held in Washington, D.C., and the consultation was constructive. Hopefully, the upcoming 13th round of high-level economic and trade consultations will produce a positive outcome. China and the U.S. are countries with great wisdom. If we have dialogues as equals and proceed win-win cooperation, I'm sure we can figure out a solution to our differences.

Third, for matters that involve each other's core interests, China and the U.S. need to stick to the principle of non-interference in others internal affairs in a spirit of mutual respect. If the China-U.S. relationship is to remain stable, the most important thing is to respect each other's sovereignty, social system, and development path, and not to impose one's will or model on the other. Let me stress that China did not and will not interfere in U.S. internal affairs, and we believe the American people can solve their problems. Likewise, we expect the U.S. to treat us in the same spirit and not to interfere in China's internal affairs. The crux of the Taiwan question is that China faces the danger of the splitting of its land. Upholding national unity and territorial integrity is the boundary and duty of all governments, the U.S. being no exception.

China stands for and has actively worked toward a peaceful reunification, yet we will never allow Taiwan independence forces to get their way. We hope the United States will faithfully honor the one China principal and the three Sino-U.S. joint communiqués, and support the Chinese government in opposing Taiwan independence and separation.

As for Hong Kong, the one country two systems arrangement has achieved big success, a fact that no one can deny. To maintain Hong Kong's prosperity and stability, the pressing task now is to reject violence and defend the rule of law. We hope the U.S. will be consistent in its words and actions, respect China's sovereignty and respect the efforts of the Hong Kong SAR [Special Administrative Region] government to stop violence and restore order.
Moreover, let me say a few words about the Xinjiang region in China. The government of the Xinjiang autonomous region has recently taken a series of preventive measures according to law against terrorism. This is a purely China's internal affair. Yet, it has been deliberately discredited and attacked by some anti-China forces in the world. So what is the truth concerning this matter? The truth is that the Chinese government has all along valued Xinjiang's stability and development, to preserving its religion and culture. In the past 64 years since the region was established, the local economy has grown by 80 times. Several hundred thousand of local people have been lifted out of poverty. There are now over 28,000 religious sites in Xinjiang, and close to 30,000 clerical personnel. Both figures have increased by 10 fold compared with several decades ago.

Nowadays, every 530 Muslim people in Xinjiang have a mosque on average, which is higher than many Muslim countries. The truth is that the people of different ethnicities in Xinjiang suffer deeply from extremism and terrorism for the last over two decades. There have been several thousand cases of violent terrorism there since the 1990s, and thousands of innocent people were killed or injured. These attacks took a heavy toll on the life and property of the local people and their freedom of religious beliefs and other fundamental human rights. The truth is that the measures taken in Xinjiang in recent years, have a clear cut purpose, that is to prevent extremism and terrorism at the root. These measures are consistent with Chinese law and common approaches advocated in the global community.

According to the U.N. Plan of Action to prevent violent extremism, poverty, unemployment, the absence of alternative employment opportunities and low levels of education are the background causes of violent extremism, along with the distortion and exploitation by violent extremist groups of religious beliefs. The Plan of Action suggests early engagement and combining the actions to counter violent extremism with preventive measures. That is precisely what Xinjiang has done. Visible progress has been made. There has not been a single case of violent terrorism in the past three years.

The truth is, the education and training centers in Xinjiang are schools that help the people in question free themselves from the influence of extremism and terrorism, and acquire professional skills. The centers are anything but horrific concentration camps. This year, we have invited nearly 1,000 personnel from the diplomatic media economic circles of Western countries, including the U.S. to Xinjiang. They have seen the education centers firsthand and visited other places in Xinjiang. The impression they share is that the situation on the ground is far from what some Western forces and media have reported.

Not long ago, some 50 countries in a co-signed letter to the president of the Human Rights Council expressed the support for China's position on the Xinjiang related issues. They pointed out the education and training centers and other measures in Xinjiang have effectively prevented extremism, terrorism, and the basic human rights in Xinjiang have been safeguarded. Among these co-signatories, nearly 30 countries are members of the Organization of Islamic Cooperation. Rumors find no market among the fair minded and pale in the face of facts. Our measures in Xinjiang are all for the safety and happiness of the 25 million people of different ethnic groups in Xinjiang, for contributing a greater share to the international fight against terrorism. We are fully open and above board, and we're confident that no vile smears will work.

We hope to present a true picture of Xinjiang to friends present tonight and to people from other countries. You're welcome to visit Xinjiang and see for yourself the development there and we hope that no one will be misled or deceived by rumors.

Friends, the China-U.S. relationship is the most consequential bilateral relationship in the world. As President Xi Jinping has emphasized, our two countries have 1,000 reasons to grow the relationship and none whatsoever to wreck it.

The future of China-U.S. relations and global peace and development hinges on us drawing upon experience and lessons of history, and on the choice we make and action we take today. I'm confident when we effectively enhance mutual trust, properly manage differences, and strengthen exchanges and cooperation, in keeping with the principle of no conflict or confrontation, mutual respect and willing cooperation, China-U.S. relations could enjoy sound and steady growth, bringing greater benefits to the people of the two countries and beyond.

Thank you very much.

Stephen A. Orlins: The State Council has agreed to take a couple of questions even though I know we're running over. And those of you who have trains or planes to catch, I understand that. Let me first recognize our executive vice chairman, Hank Greenberg, who has probably done more to support constructive U.S.-China relations than any person, any business person I've ever known. Hank, you want to ask the first question? We got a microphone?

Maurice R. Greenberg: I do now. Your Excellency, I enjoyed your speech very much. You covered a lot of ground. I agree with most of what you said. I think most of the people in this room would agree with you as well. What can we do that can help China? The people in this room have been doing business in China for a long time. I've been doing business in China for 40 years. So I understand the country quite well. But what can we do to help in this problem? Thank you.

Wang: It's a very good question. What is affecting the China-U.S. relationship in the biggest way, is a lack of a right approach to this relationship and a correct understanding about facts. We have seen various types of media reports within the United States. But I have to point out that there are quite a lot of misunderstandings, misjudgment, and even misrepresented information. All of you have been in China for a long time in the past four decades. You are well aware of the actual nature of China-U.S. relationship. You are well aware of the positive changes taking place in China in the past 40 years. If there is anything that we hope our American business friends will do, we hope that you will present the true picture of China to more American public about China's development and about the hard work of the Chinese people in raising their own living standards.

I believe in that way, we will be able to increase mutual understanding and get our relationship back to the right track as early as possible. Thank you.

Orlins: Ask your question to the State Councilor. It's a very quiet group. It's all the media behind there that doesn't want the attention.

Wang: Well, your turn.

Orlins: This gives the moderator the opportunity. If, you know, every day you're dealing with a whole variety of issues. If you had President Trump sitting here with you, what would be the one issue you would ask him to compromise on?

Wang: I just want to say that I hope President Trump will visit China more and engage more with the Chinese public, to have face to face dialogues and conversations with them. And I believe in that way the top leader of the United States in guiding Sino-U.S. relationship will keep the relationship on the right track.

Orlins: Well, I know the evening has gotten away from us and it's gotten late but, you know, this is the inaugural event at the China-U.S. SkyClub and we've heard State Councilor Wang Yi gave the speech which really lays a foundation for how the U.S.-China relationship can get set right. So as we inaugurate the SkyClub, I hope, with your kind of speech, that we can inaugurate a stronger and more constructive U.S.-China relationship. So thank you so much for coming.