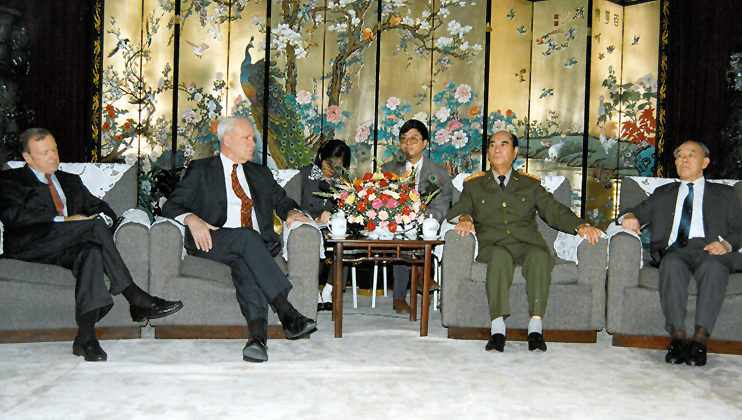 Historic First
The official mil-mil relationship between China and the United States was at a low point in the mid-1990s as a result of American sanctions imposed after Tiananmen. The National Committee felt it important that contact between the two militaries be kept up, so with a grant from the Freeman Foundation, the Committee sent a group of four retired four-star generals and admirals to China, Hong Kong, and Taiwan in 1994 under the leadership of Secretary Robert McNamara. It was so successful that two years later Secretary James Schlesinger led a group of five retired four stars on a similar trip.
In 1997, while thinking about a follow-up program, the National Committee learned that upon returning to private life, Secretary William Perry and Assistant Secretary Ash Carter had formed the bi-partisan Preventive Defense Project (PDP), a research collaboration of Stanford University and Harvard University's Kennedy School of Government (where they respectively taught).
PDP had, up until then, focused on forging productive security partnerships with Russia and its neighbors, but wanted to engage an emerging China. The Committee partnered with PDP on a series of Track II Strategic Security dialogues that began in 1999 and have continued on a 12-18 month interval.