Tuesday, January 9, 2018 | 8:45 AM EST - 12:15 PM EST
New York Stock Exchange |, New York, NY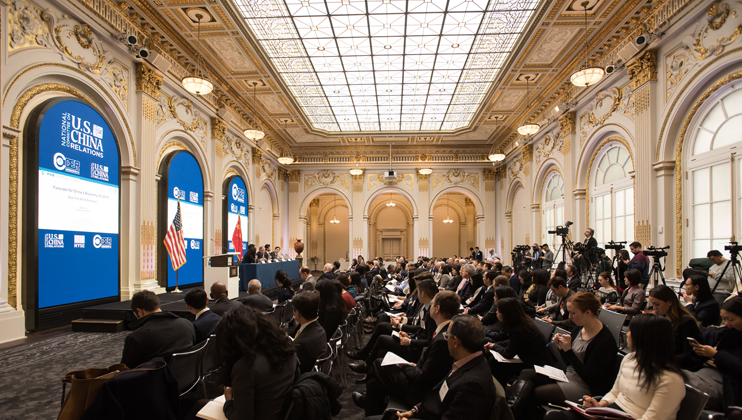 China's economy performed better than expected in 2017: is this positive trend set to continue in 2018 or will there be a slowdown as some have been predicting? In October 2017, the International Monetary Fund raised its 2017 GDP growth forecast for China to 6.8 percent, 0.1 percent higher than its previous forecast in July. Many believe that the upward revision reflects the stronger-than-expected output in the first half of the year, underpinned by previous policy easing and supply-side reforms. Yet there remain a number of long-term structural contradictions in China's domestic economy, as well as unpredictable factors abroad, that will challenge continued growth in 2018.

The National Committee and Peking University's China Center for Economic Research once again brought together leading Chinese and American economists for a half-day conference to discuss China's economic outlook in 2018 and beyond. The discussion topics included:
U.S.-China trade relations in light of the recent meeting between Xi Jinping and Donald Trump
Progress and challenges in structural reform
Supply-side reform and its impact on the global economy
Cross-border capital flows and financial reforms
RMB internationalization
The Belt and Road Initiative
The issue of China's Xiong'an New Area: just hype or the new Shenzhen?
Keynote Speakers:

Justin Yifu Lin
Justin Yifu Lin, Ph.D. in economics from the University of Chicago, is director of Center for New Structural Economics, dean of Institute of South-South Cooperation and Development, and professor and honorary dean of the National School of Development at Peking University. He was the senior vice president and chief economist of the World Bank, 2008-2012.
Dr. Lin served for 15 years as founding director and professor of the China Centre for Economic Research (CCER) at Peking University. He is the author of 23 books. He is councilor of the State Council, a member of the Standing Committee, Chinese People's Political Consultation Conference, and vice chairman of the All-China Federation of Industry and Commerce. He is a corresponding fellow of the British Academy and a fellow of the Academy of Sciences for Developing World.

Qin Xiao
Qin Xiao, who received his Ph.D. in economics from Cambridge University, is a council member of the FSDC (Financial Services Development Council, HK) and guest professor at Tsinghua University and the Chinese University of Hong Kong. He served as chairman of China Merchants Group and China Merchants Bank; president and vice chairman of China International Trust and Investment Corporation (CITIC); and chairman of CITIC Industrial Bank. He was a deputy to the Ninth National People's Congress, a member of the 10th and 11th Chinese People's Political Consultative Conference, and an advisor on the Foreign Currency Policy of the State Administration of Foreign Exchange. He also served as chairman of APEC Business Advisory Council (ABAC) for 2001. His papers and books in economics, management, and social transformation have been published in China and abroad.
Moderators:

Michelle Caruso-Cabrera
Michelle Caruso-Cabrera is CNBC's chief international correspondent and co-anchor of "Power Lunch," which airs Monday through Friday from 1:00 to 3:00 p.m. ET.
In 2016, she reported live from Iran on the state of the economy and potential investment opportunities in the country, despite continuing U.S. sanctions. Caruso-Cabrera also traveled to Brazil to cover the effect of the Car Wash scandal on Petrobras.
Latin America is a large focus of her coverage as trade has become a key election issue, particularly when it comes to Mexico. Previously, Caruso-Cabrera has done extensive reporting on Mexico's efforts to modernize PEMEX and has interviewed dozens of Mexican business executives, CEOs and government officials. She also covered Venezuela during the PDVSA strike.
Additionally, she has reported from Cuba more than half a dozen times as relations between the U.S. and Cuba have thawed.
Since 2010, she has covered the European financial crisis, reporting live from Athens, Rome, Frankfurt, Madrid, Brussels, Luxembourg and Cyprus. In the summer of 2015, she spent a full month in Greece.
Caruso-Cabrera joined CNBC in 1998 from WTSP-TV in St. Petersburg, Fla., where she spent four years as a general assignment reporter covering crime and hurricanes. Prior to that, she was a special projects producer for Univision where she gained experience covering Latin America. She began her career in 1990 while in college, as a stringer for The New York Times, reporting for the education section.
Caruso-Cabrera has reported one-hour documentaries for the network, including "Liquid Assets: The Big Business of Water" and "The Race to Rebuild: America's Infrastructure."
Caruso-Cabrera wrote her first book, "You Know I'm Right: More Prosperity, Less Government," in 2010. Previously, she wrote a personal finance column for Shape en Español and People en Español.
She has also been awarded Broadcaster of the Year from the National Association of Hispanic Journalists and was named one of the "100 Most Influential Hispanics" in the country by Hispanic Business magazine. She earned a bachelor's degree in economics from Wellesley College.

Huang Haizhou
Huang Haizhou is a managing director and Management Committee member at the China International Capital Corporation (CICC).
He has over twenty-year experiences in serving clients in the financial industry and governments, as well as conducting research at market, policy and academic institutions. Before joining CICC, he was Chief Economist for Greater China at Barclays Capital (2005 – 2007), and Senior Economist at the International Monetary Fund (IMF, 1998 – 2005). He taught at the Chinese University of Hong Kong and the London School of Economics (LSE) before joining IMF, and has been a part-time special term professor of finance at Tsinghua University's School of Economics and Management and PBC School of Finance.
He is Vice President of the China Society of World Economics, Member of the China Finance 40 Group (CF40), Member of Expert Committee of China's Thirteenth Five-year Plan, Member of the Hong Kong Financial Services Development Council, and Member of the Global Agenda Council of the World Economic Forum.
He was awarded a Ph.D degree in business from Indiana University in 1994, and a master and bachelor degrees, both in engineering, from China. He has over twenty publications in leading academic and policy journals, including American Economic Review, China Economic Review, European Economic Review, Journal of Banking and Finance, Journal of International Economics, Journal of Monetary Economics, etc.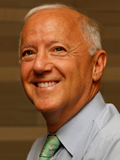 Stephen A. Orlins
Stephen A. Orlins has been president of the National Committee on U.S.-China Relations since May 2005. Prior to that, Mr. Orlins was the managing director of Carlyle Asia and the chairman of the board of Taiwan Broadband Communications, one of Taiwan's largest cable television and high speed internet providers. Prior to joining Carlyle, he was a senior advisor to AEA Investors Inc., a New York based leveraged buyout firm, with responsibility for AEA's business activities throughout Asia.
From 1983 to 1991, Mr. Orlins was with the investment banking firm of Lehman Brothers where he was a managing director from 1985 to 1991. From 1987 to 1990, he served as president of Lehman Brothers Asia. Based in Hong Kong, he supervised over 150 professionals with offices in Hong Kong, Korea, China, Taiwan, Thailand, Manila and Singapore. Prior to joining Lehman Brothers, Mr. Orlins practiced law with Coudert Brothers and Paul, Weiss, Rifkind, Wharton & Garrison in New York, Hong Kong and Beijing.
From 1976 to 1979, Mr. Orlins served in the Office of the Legal Advisor of the United States Department of State, first in the Office of the Assistant Legal Advisor for Political-Military Affairs and then for East Asian and Pacific Affairs. While in that office, he was a member of the legal team that helped establish diplomatic relations with the People's Republic of China.
Mr. Orlins is a magna cum laude graduate of Harvard College and earned his law degree at Harvard Law School. He speaks Mandarin Chinese and is a member of the Council on Foreign Relations.
In 1992, Mr. Orlins was the Democratic nominee for the United States Congress in New York's Third Congressional District.
Panelists:
Huang Yiping, Professor and Deputy Dean, NSD, PKU
Nicholas R. Lardy, Senior Fellow, Peterson Institute for International Economics
Liang Hong, Chief Economist, CICC
Lu Feng, Professor, NSD; Director, China Macroeconomic Research Center, PKU
Daniel H. Rosen, Founding Partner and China Practice Leader, Rhodium Group
Xiang Songzuo, Deputy Director and Senior Fellow, Center for International Monetary Research, Renmin University of China
Xu Gao, Chief Economist, China Everbright Investment and Assets Management Co., Ltd.