Wednesday, February 22, 2017 | 5:30 PM EST - 7:00 PM EST
National Committee on U.S.-China Relations |, New York, NY
Before 1978, China was a poor country with a planned economy overseen by a Maoist bureaucracy. Today it has the world's second largest economy, a robust and growing middle class, and is a key driver of global growth. What explains this rapid transformation? In her new book, How China Escaped the Poverty Trap, Yuen Yuen Ang traces the joint evolution of the economy and governance, describing how China employed a strategy of "directed improvisation" to harness weak institutions to build markets, which in turn stimulated the growth of strong institutions; they then preserved markets. Dr. Ang compares China's reform experience to late medieval Europe, pre-Civil War America, and contemporary Nigeria.
Dr. Ang is an assistant professor of political science at the University of Michigan, where she studies developing countries, emerging markets, and China. On February 22, 2017, she joined National Committee President Stephen A. Orlins in New York City for a discussion of her book, its striking conclusions about China's development path, implications for our understanding of Western history, and how others can escape the poverty trap.
To read reviews of Dr. Ang's book, click here and here.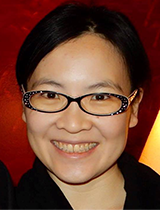 Yuen Yuen Ang
Yuen Yuen Ang is assistant professor of Political Science at the University of Michigan. Her research features a unique blend of international development, complex systems, and Chinese political economy. Her first book, How China Escaped the Poverty Trap (2016), was published by the political economy series of Cornell University Press. Dr. Ang has received two Early Career Fellowships from the American Council of Learned Societies (ACLS), the Eldersveld Prize for outstanding research from the University of Michigan's Department of Political Science, and won a global essay contest on "The Future of Development Assistance," sponsored by the Bill and Melinda Gates Foundation. Most recently, she was named a fellow of the Public Intellectuals Program of the National Committee of U.S.-China Relations. She earned a B.A. in political science from Colorado College, and her Ph.D. from Stanford University. She was previously on the faculty of Columbia University's School of International and Public Affairs.