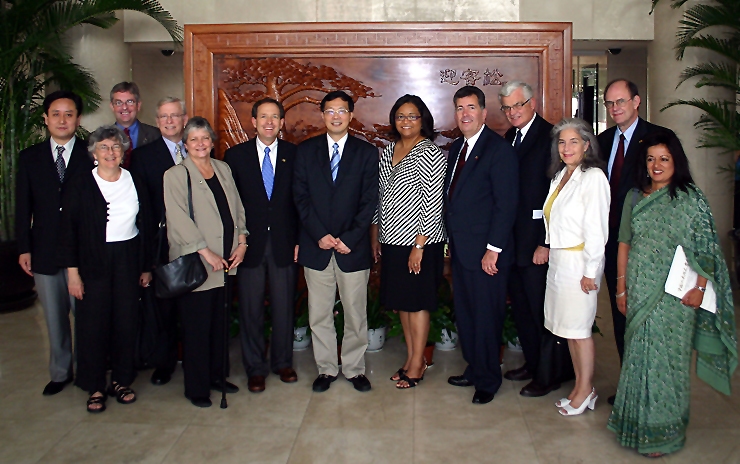 In June 2007, the National Committee worked with long-time partner, the National League of Cities (NLC), and new partner, the League of California Cities (LCC) on a ten-day study tour to Beijing, Qingdao and Shanghai for mayors, city council members, and the NLC and LCC leadership.
The goals were to broaden the municipal officials' horizons by having them see and hear how municipalities in China handle various issues, in particular, the balance between economic expansion and sustainable development. Over the course of the study tour, the delegation members met with their Chinese counterparts, along with a variety of government, business, and non-governmental organizations that focus on environmental protection, sustainable development, green building, and municipal governance.
In September 2008, the National Committee will work with the National League of Cities once again to send municipal leaders from the United States on a seven-day study tour to China. The focus of this year's delegation is urban sustainability and green practices. On this visit, delegation members will meet with Chinese counterparts in Beijing, Qingdao, and Shanghai to discuss the progress being made in both China and the United States.
The 2008 delegation continues a long line of National Committee programs involving both American and Chinese municipal leaders. In fact, it was in September 1978 that the Committee brought the very first group of mayors and deputy mayors from the People's Republic to U.S. soil. Led by Beijing Deputy Mayor Zhao Pengfei and Shanghai Deputy Mayor Yen Yumin, the 19-member delegation also included city planners, architects, and engineers. That visit was quickly followed by a National Committee-organized program for U.S. mayors to visit China (May 1979), and by a National Committee-organized program for Chinese provincial governors to visit the United States (October 1980).